The Island of Hawaii -- September 17-24, 2004





This eating, hiking, eating, swimming, eating, snorkeling, eating, shopping, eating, sailing, eating, soaring expedition is rated 5 Little Hula Dancers out of 5 on the Hula-dancer-o-meter.
Picking up where we left off, we landed in the city of Hilo on the Big Island: Hawaii, Hawaii, sort of like New York, New York, except perhaps somewhat more confusing.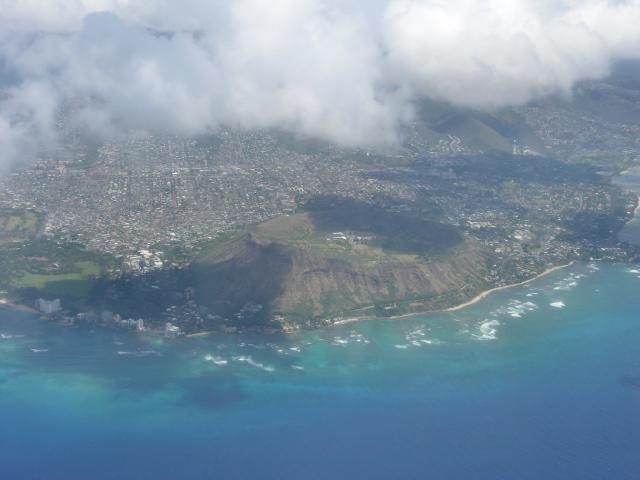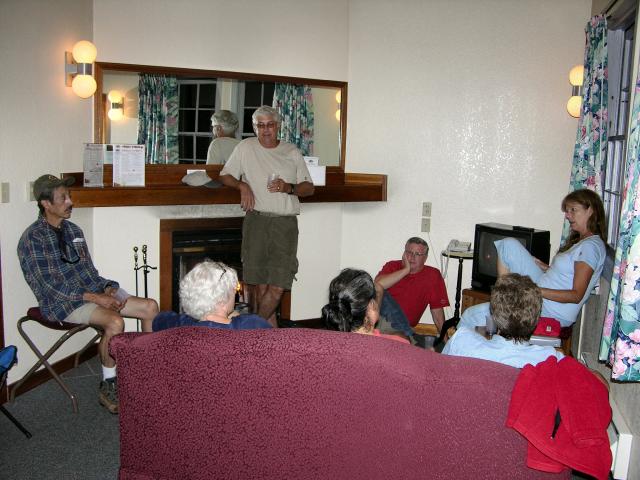 We arrived at Volcanoes National Park, and proceeded to set up camp at the Namakani Paio Campground, then headed into the National Park and the Kilauea Military Camp (KMC) for dinner at the mess hall. Jim pretty much had the run of the place, being retired military in good standing.
We discovered that Jim was also able to get accommodations for sponsored guests - like us - at KMC, so we bulldozery'ed him over to HQ to find out more. Before we knew it, we had secured a 1 bedroom apartment with plumbing, and even a small kitchen, for the next 2 nights - thank you Jim! You shall forever be remembered fondly in our hearts for this.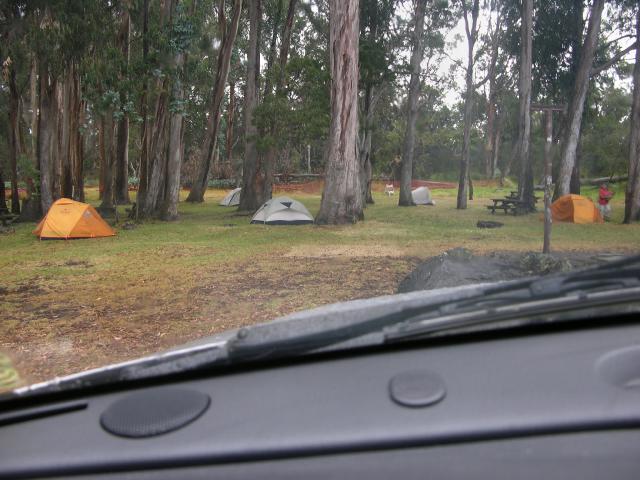 The campers spent a long and rainy night at the campground. Reports ranged from the idiots who were noisily chopping wood till midnight, to the 4:00 AM arrival of the paramedics and fire engine that showed up with lights flashing and sirens wailing. Meanwhile, we enjoyed a quiet night in our cozy little apartment, then headed out to the campground to greet the campers and check on our vacant tent. It had survived the night just fine without us.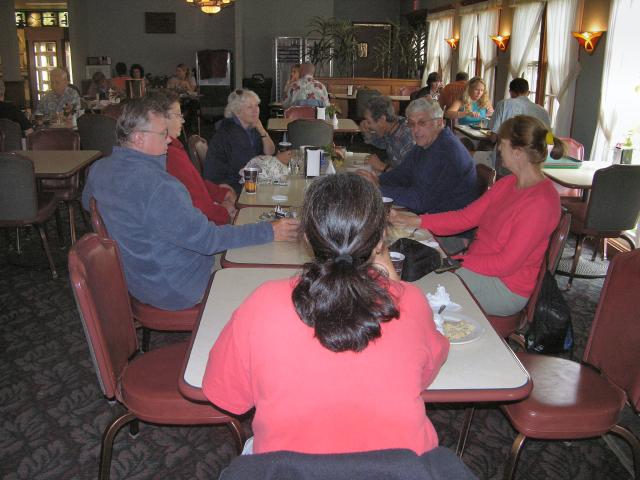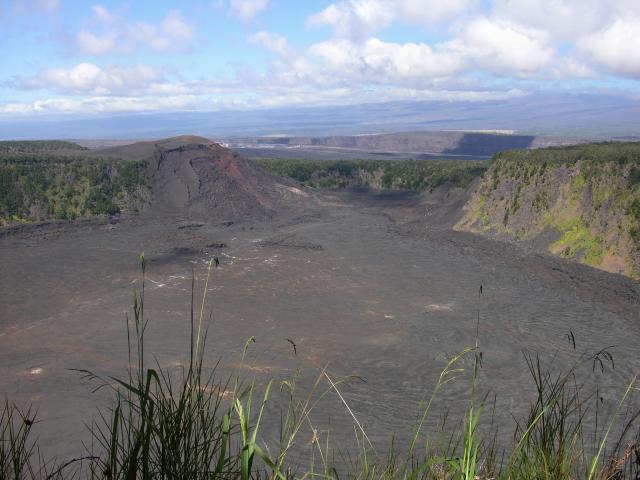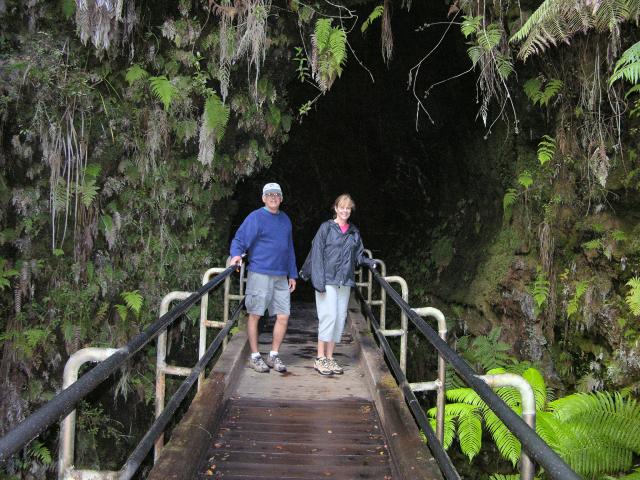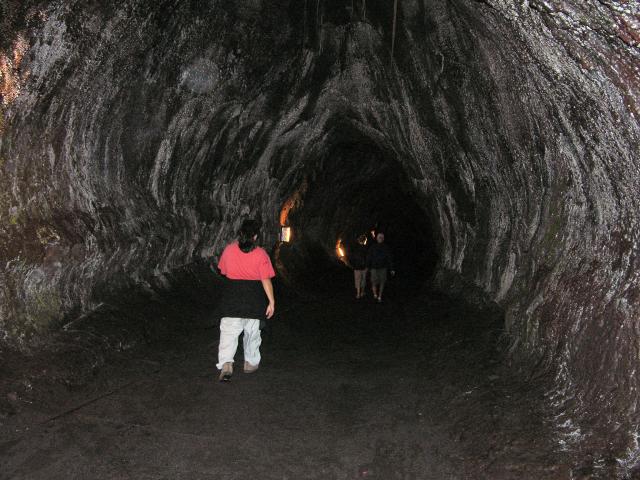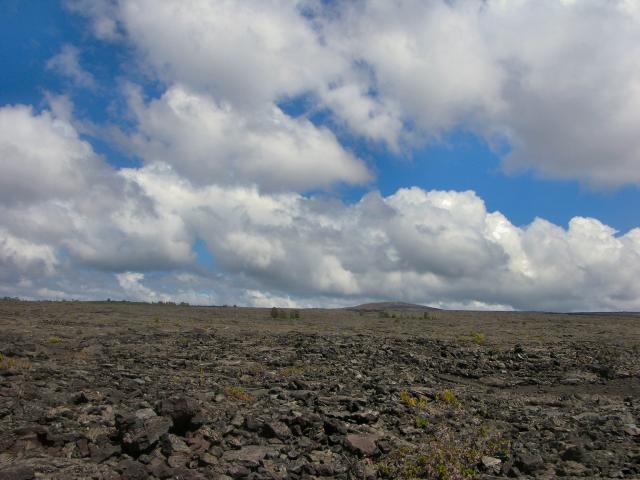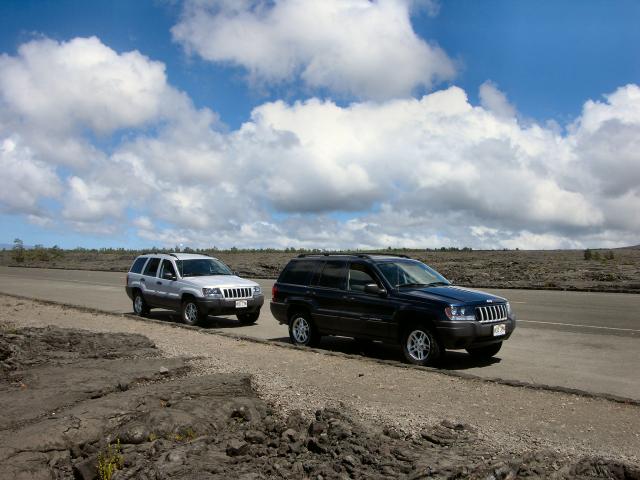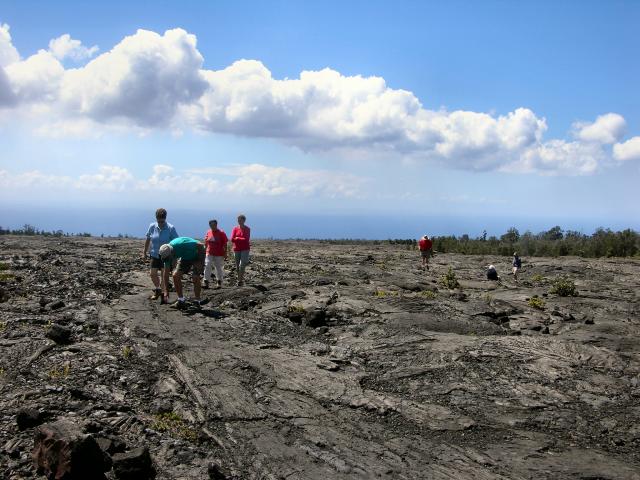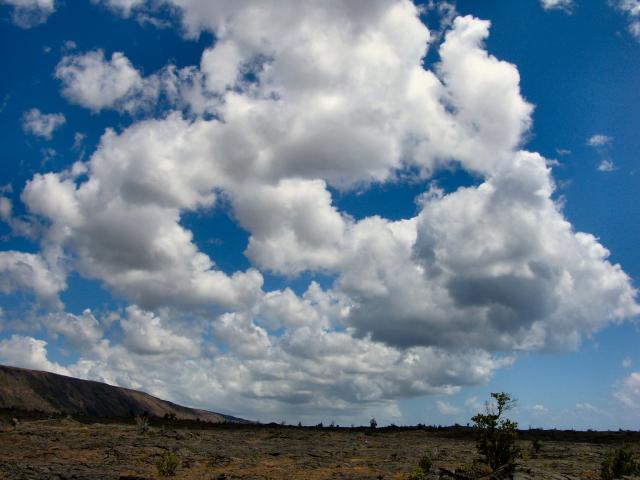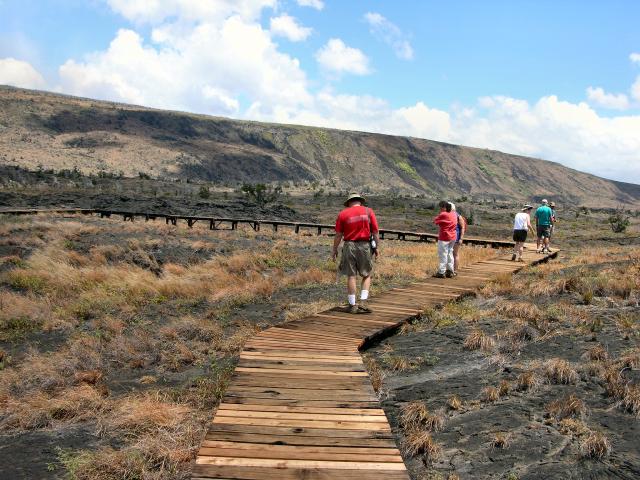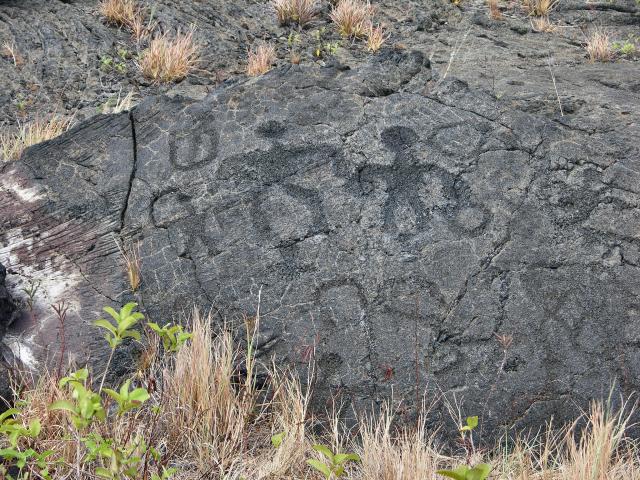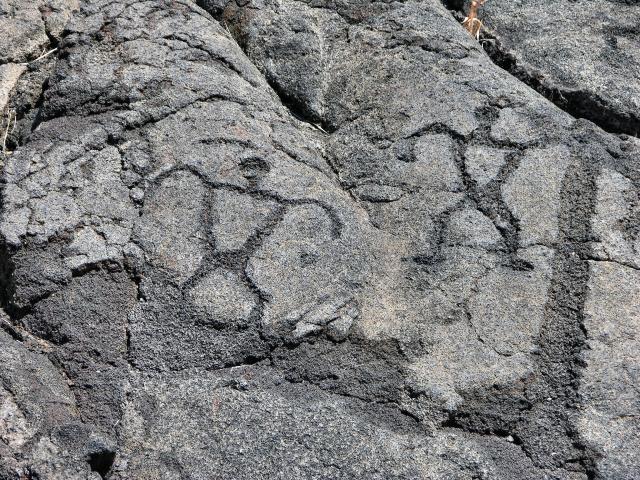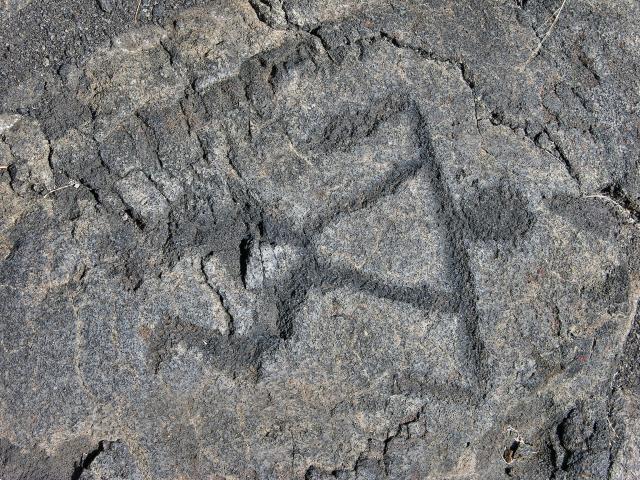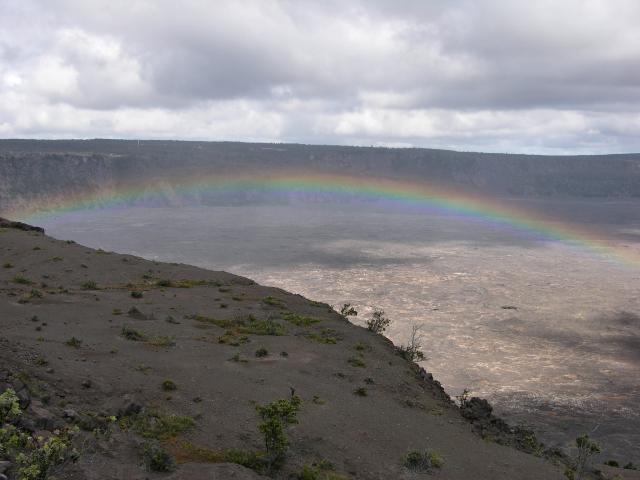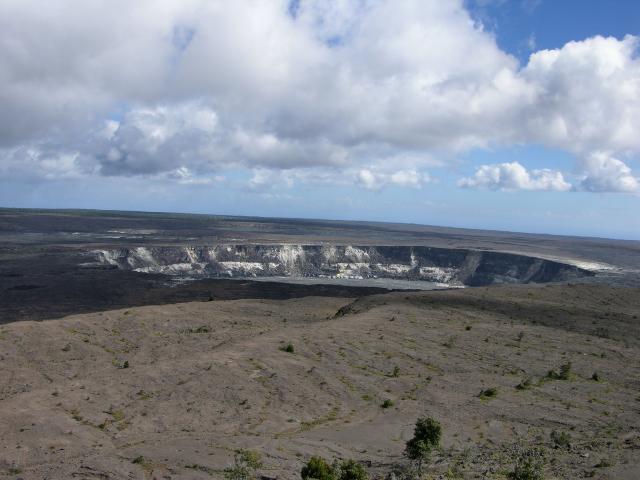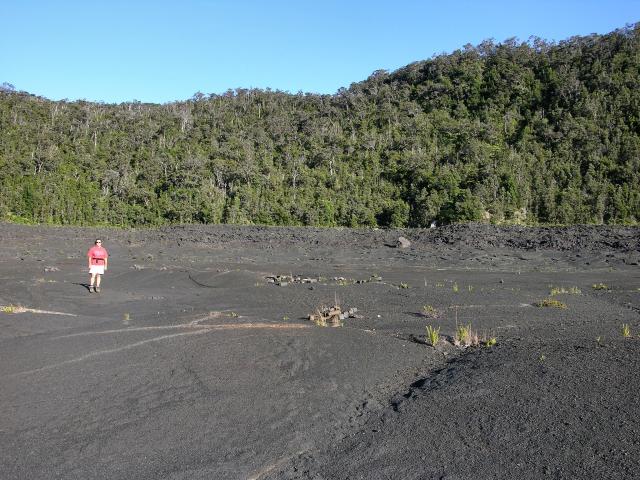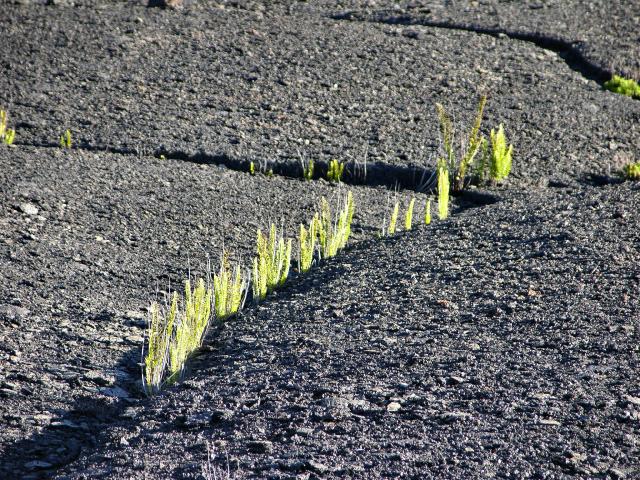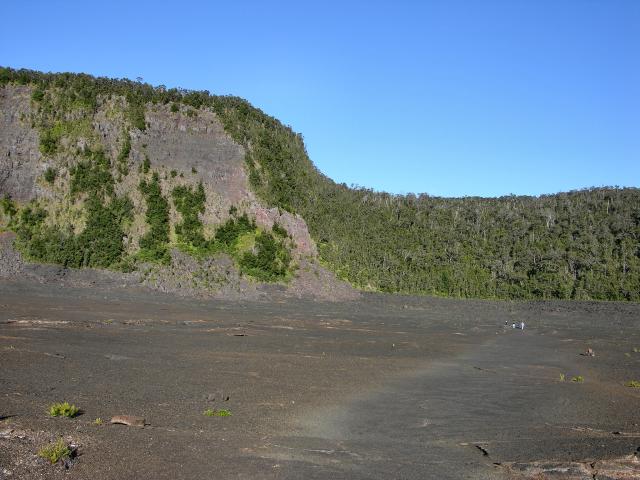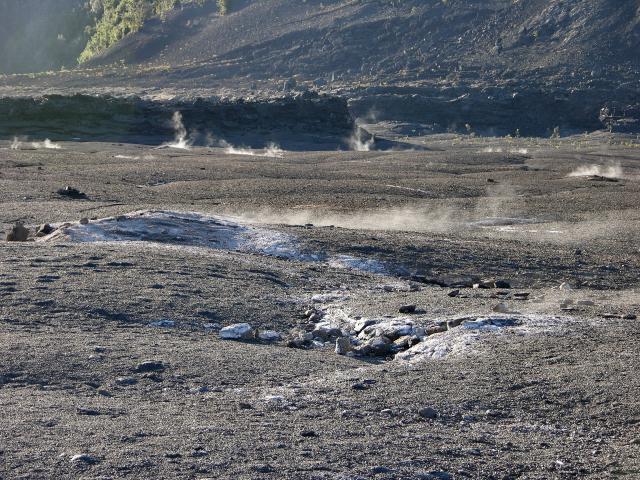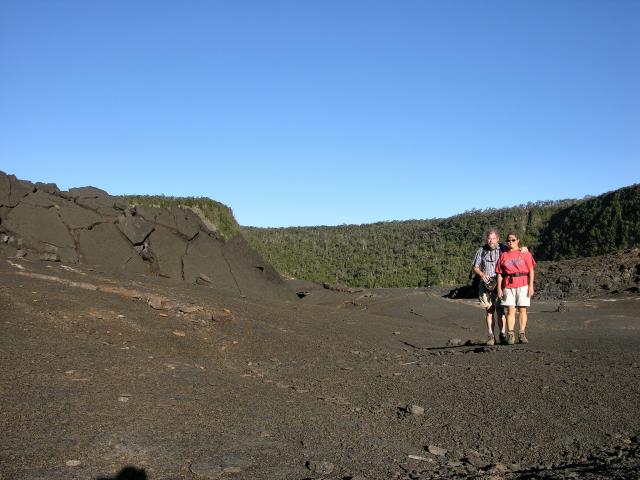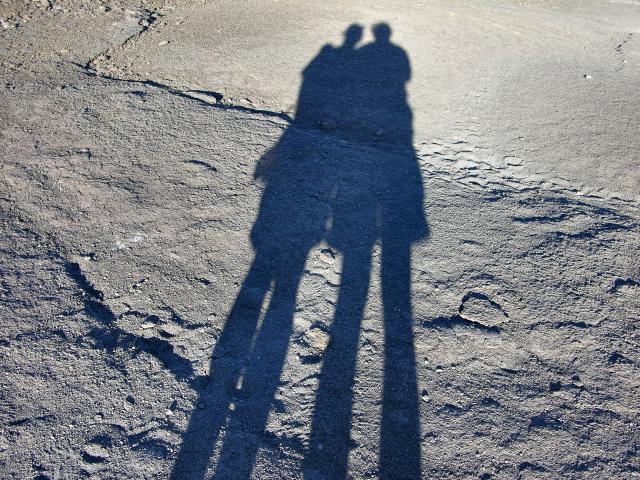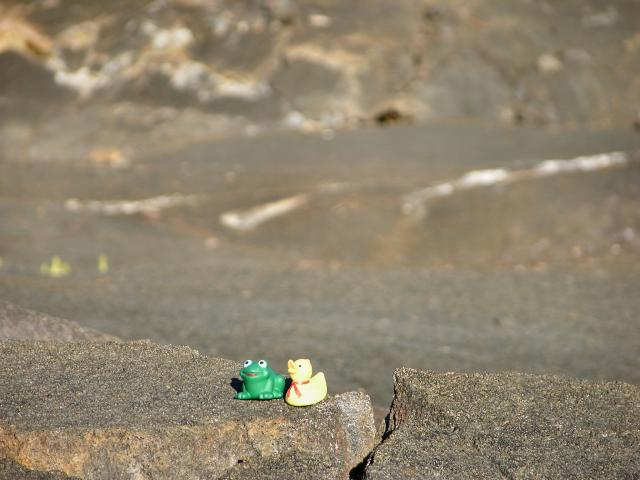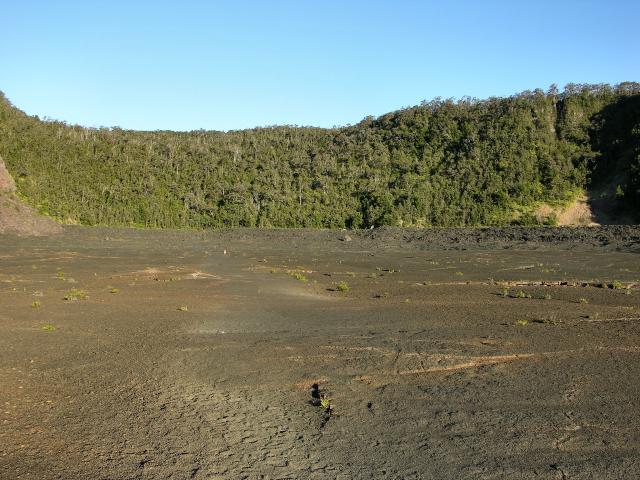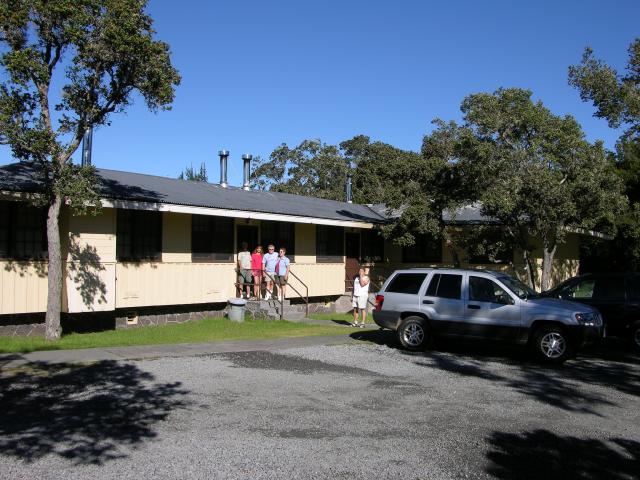 We met up at Jack and Ruth's house the next morning as we prepared to leave the Volcanoes area. Had the photographer not been so worried about appearing to be excessively bulldozery, Jim might have been directed to move forward a few inches and get out of the shadow that rendered him temporarily, but nonetheless alarmingly, headless.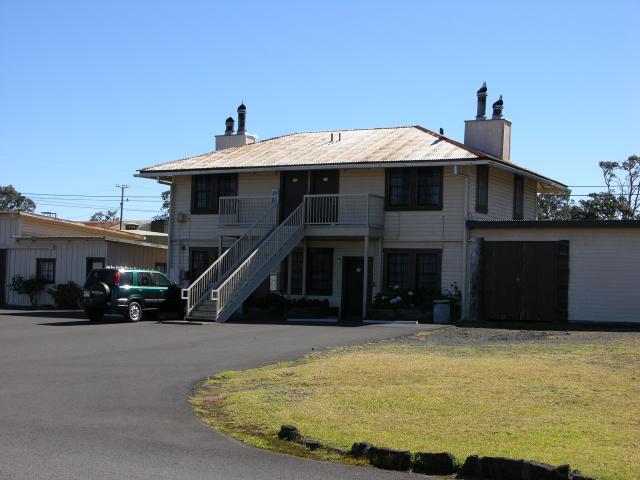 We stopped to tank up the Jeeps at the KMC fuel depot, and stopped by our house briefly for this photo opportunity before we headed for Hilo.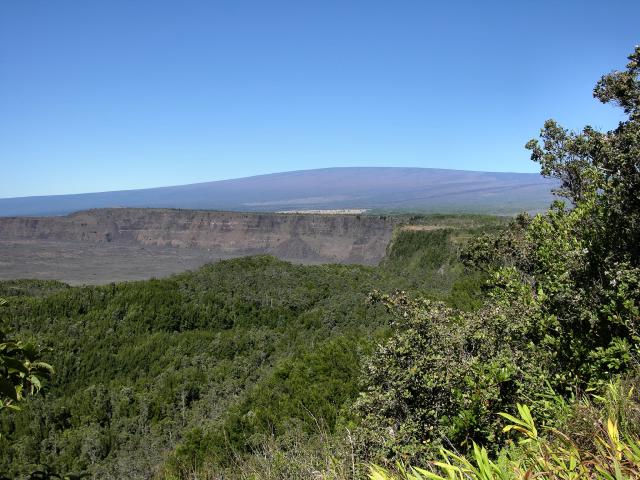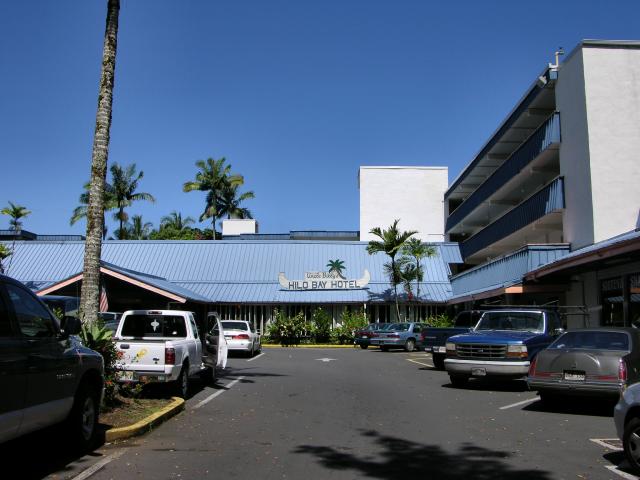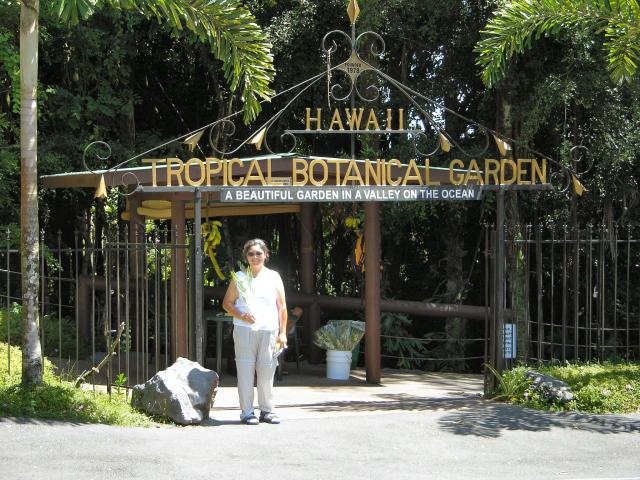 We arrived at the Hawaii Tropical Botanical Garden, and sure 'nuff, it turned out to be just as advertised: "A Beautiful Garden In A Valley On The Ocean". No deceptive advertising here.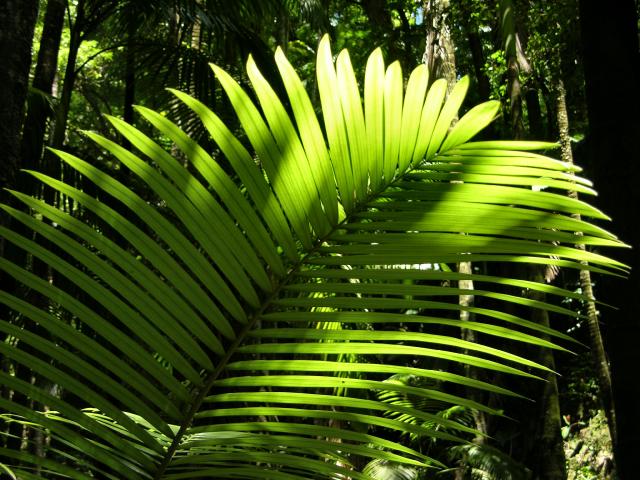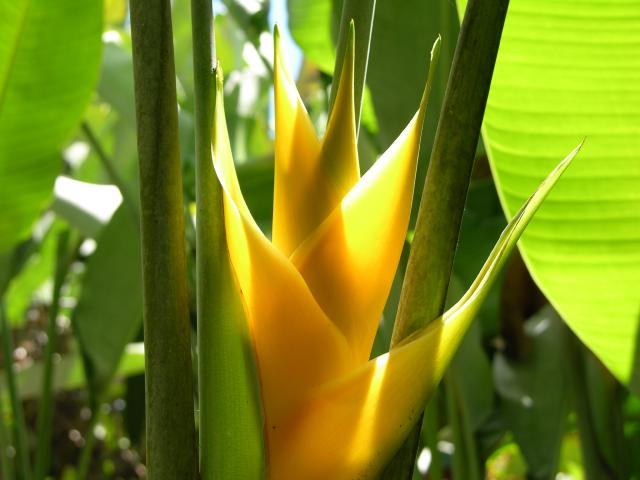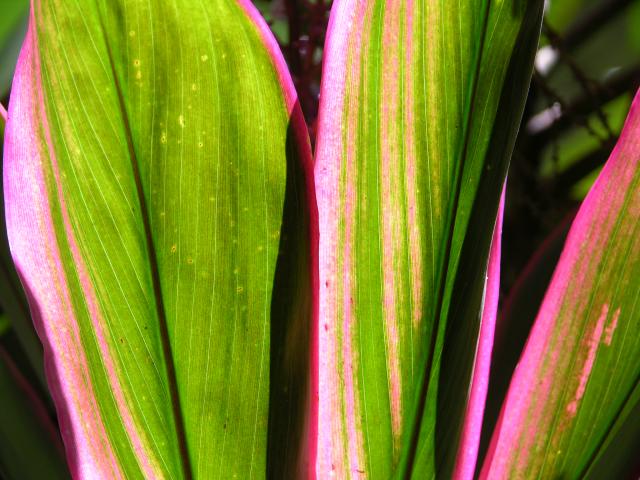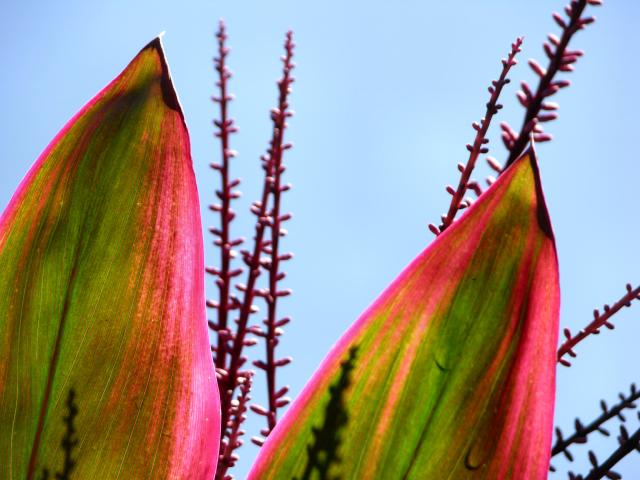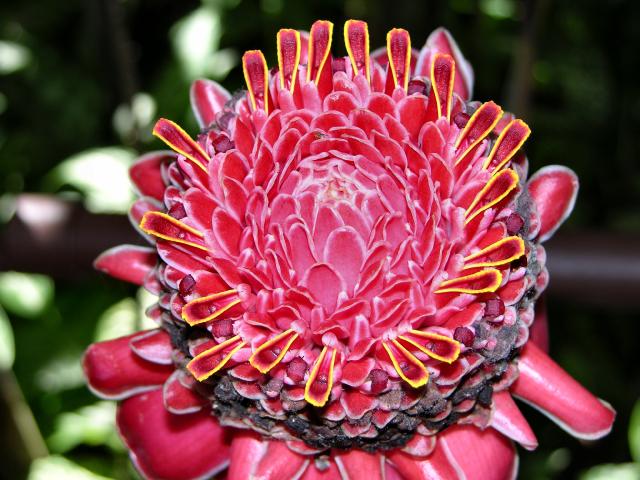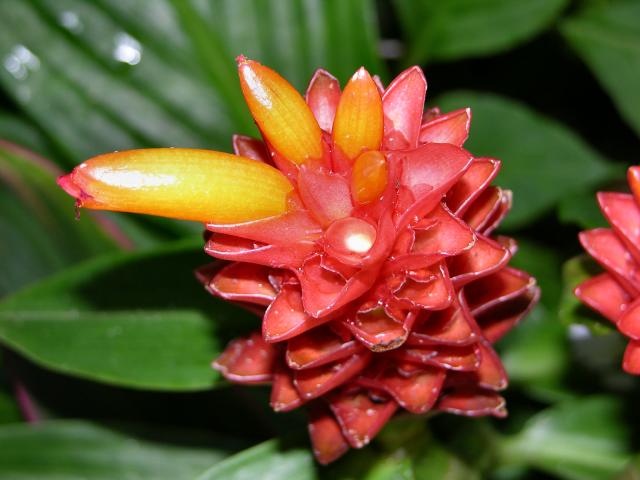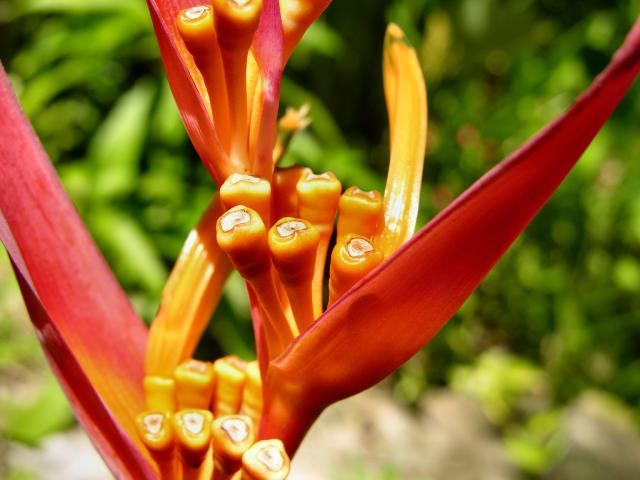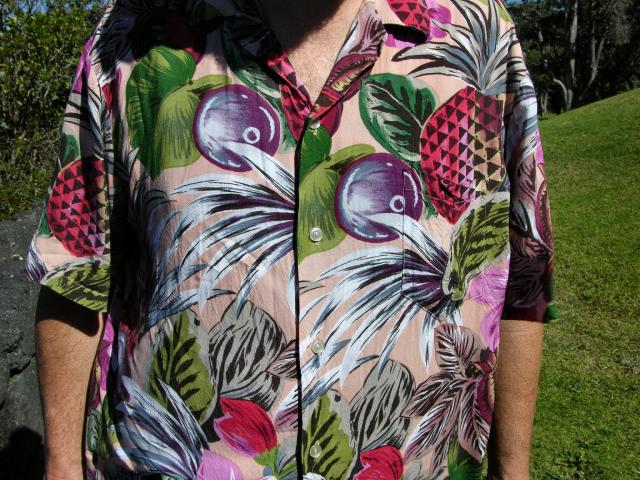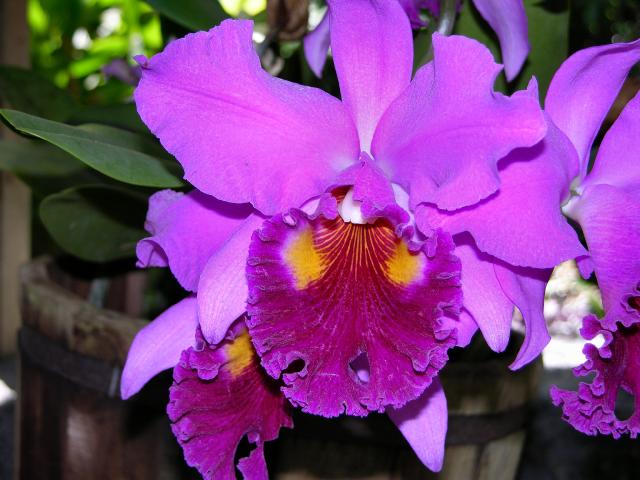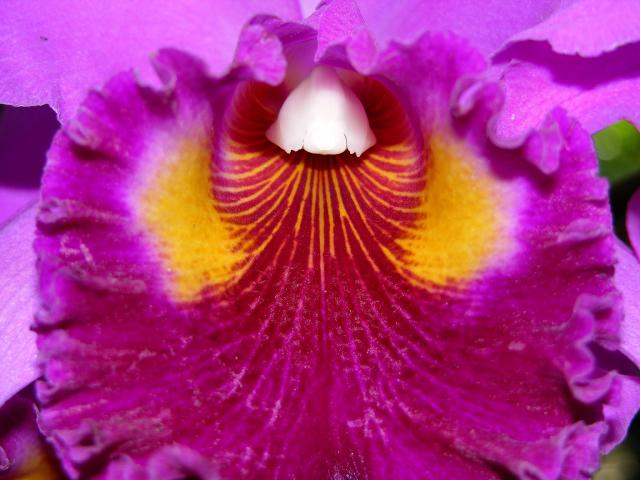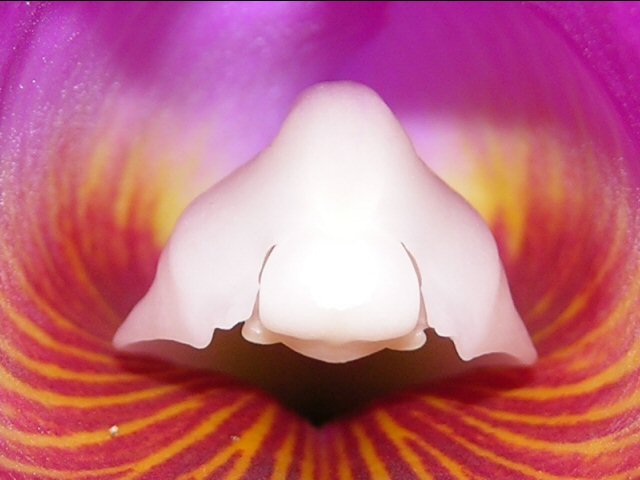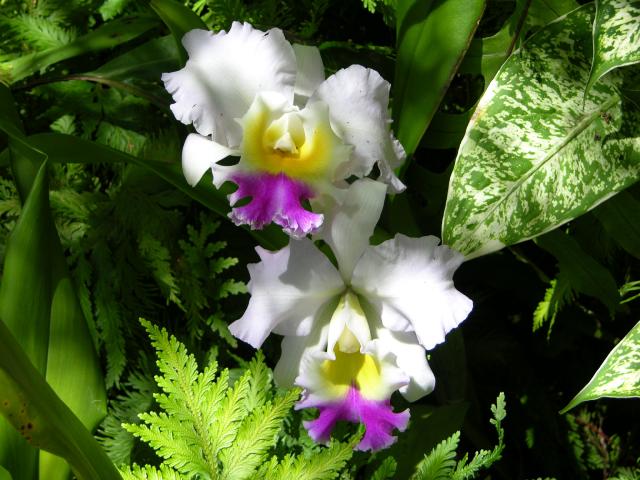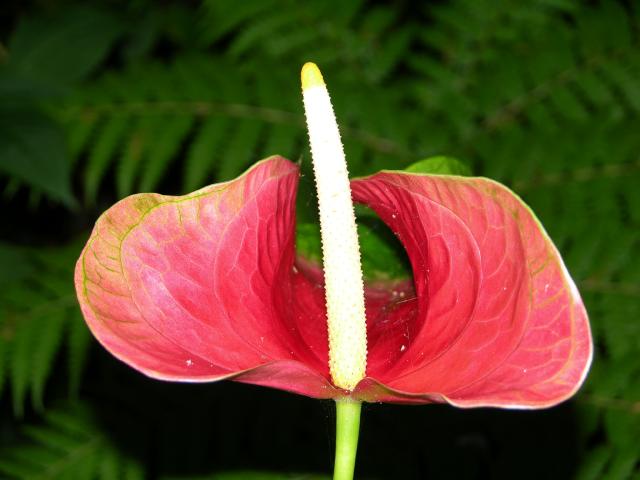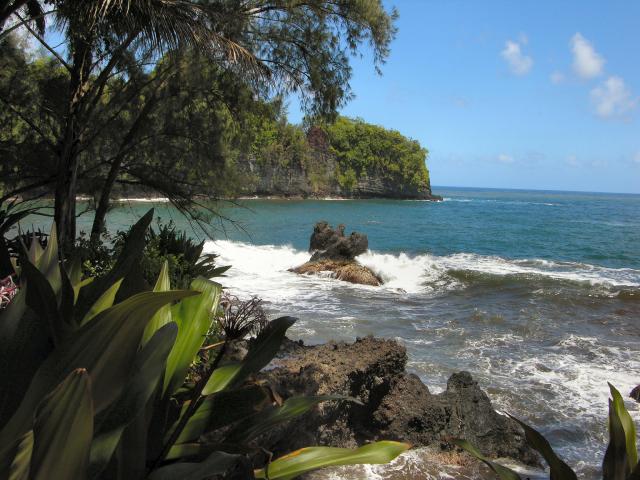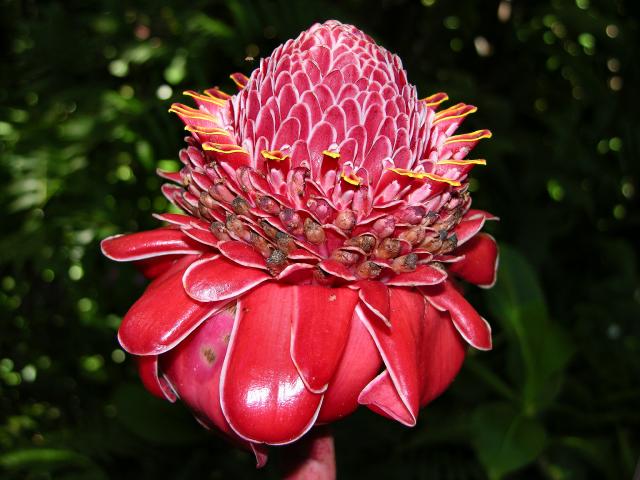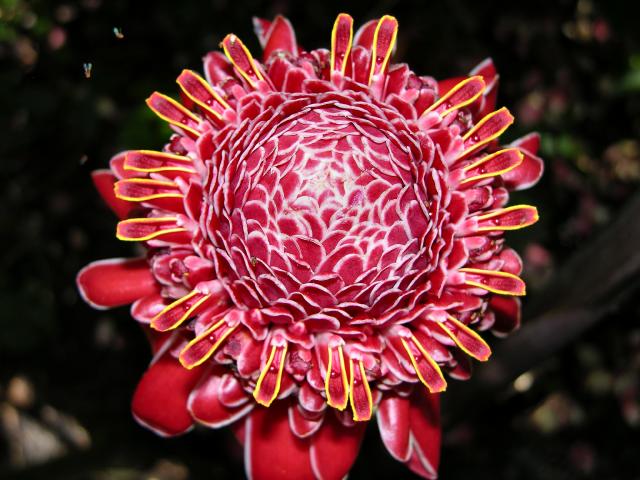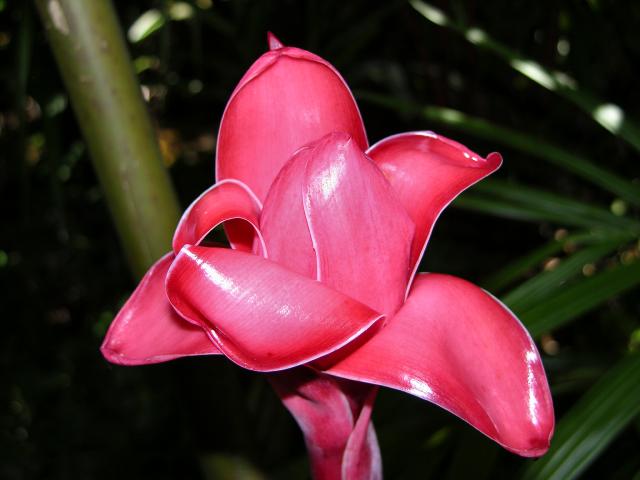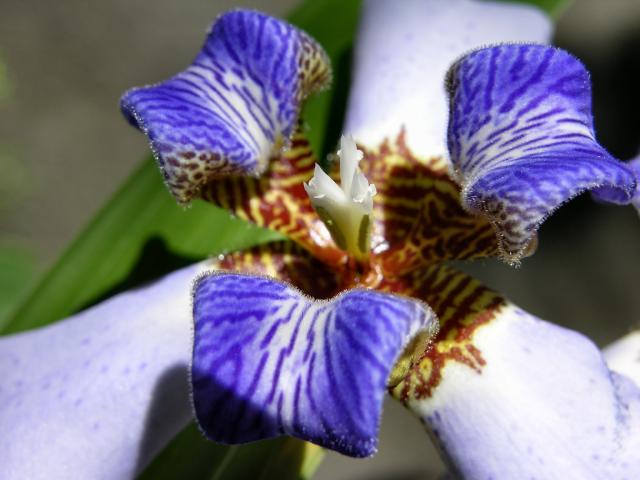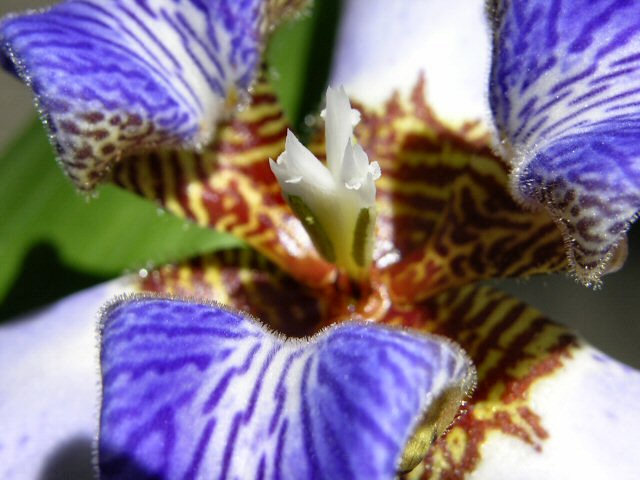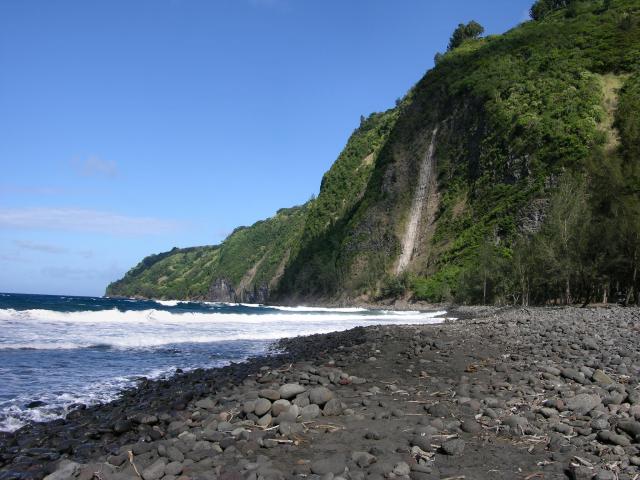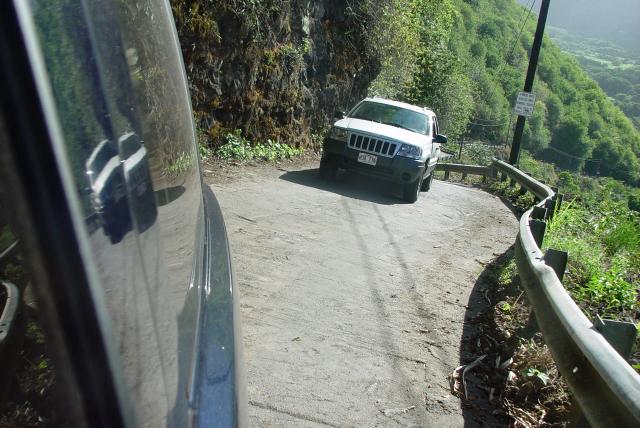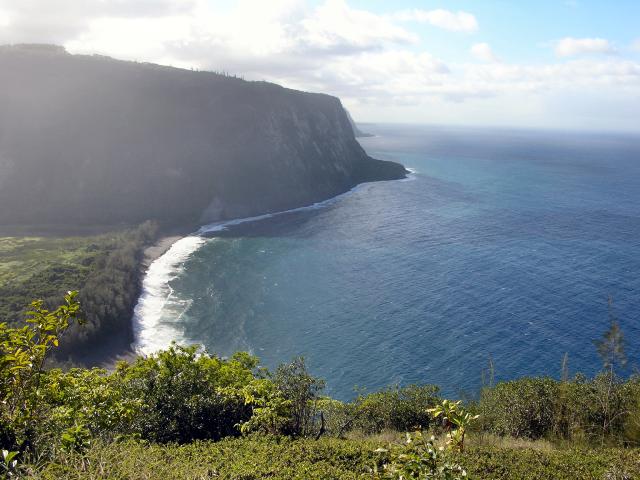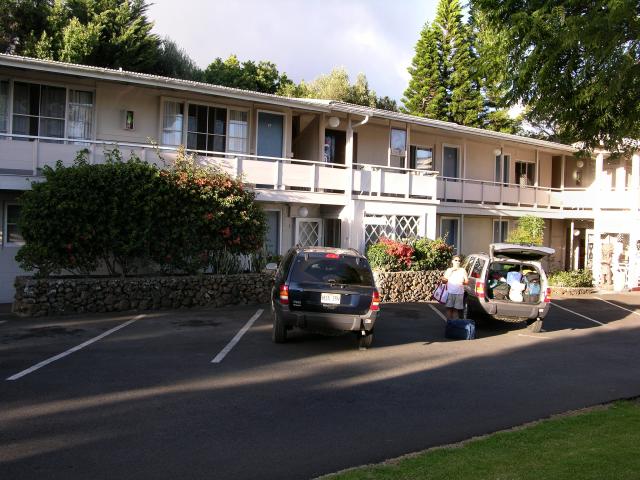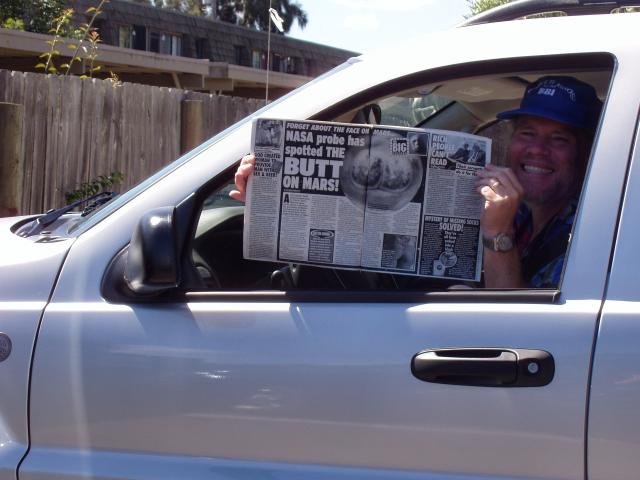 We have learned that one of the biggest problems with long trips is keeping up with current events. Fortunately, one of the travelers our group was able to secure a copy of World Weekly News, and we were all thereby able to stay up to date, like it or not, with our rapidly changing world. Ouch...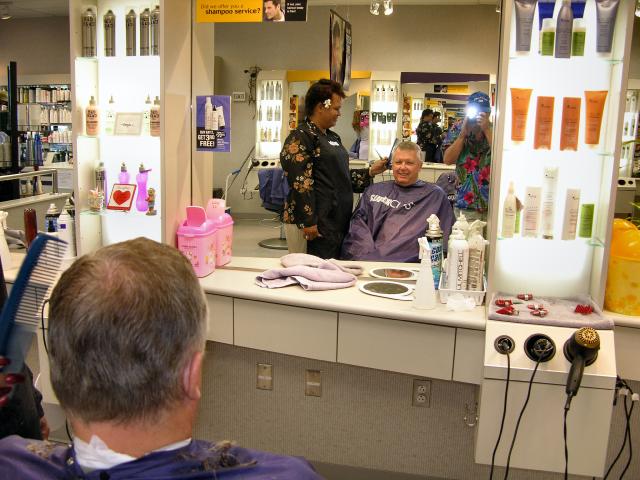 Jack snuck off for a clandestine haircut, but the rest of us hunted him down and this is the sorry result.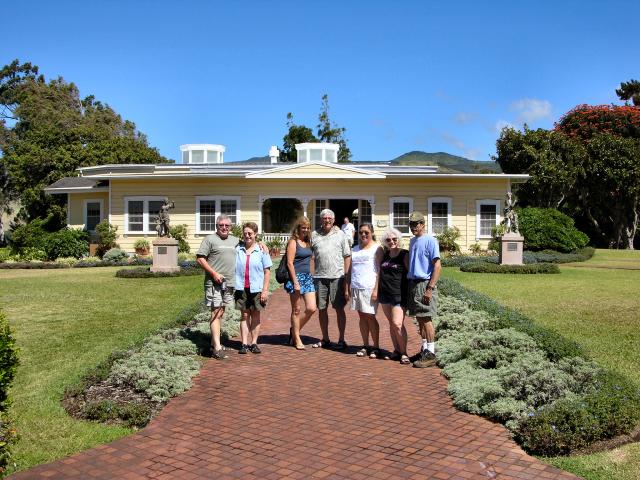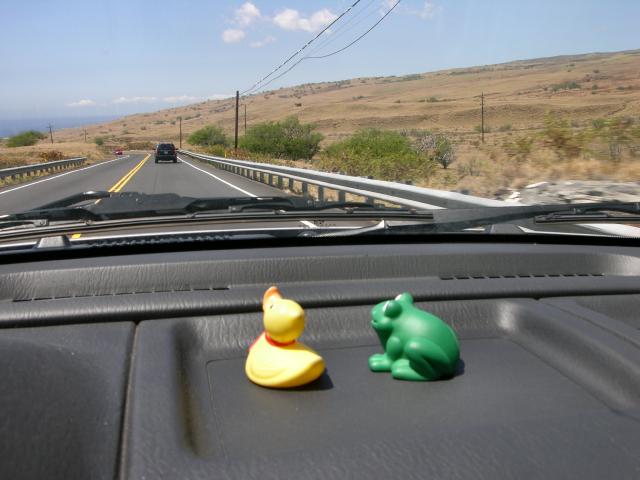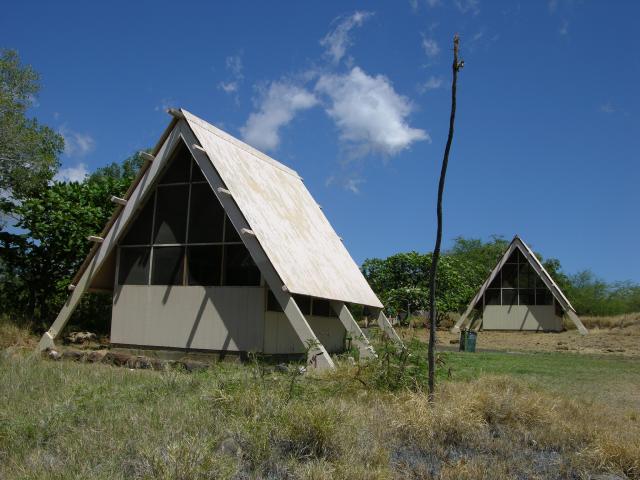 Behold the A-Frames of Hapuna Beach State Park. We slept in the car that night.
In the background, we could clearly see a hotel beckoning us, but Carol, in a surprisingly un-Carol-like, and even almost Bulldozery way, made it equally clear that we were not going to spend the night in any hotel, not when we had the A-Frames to look forward to.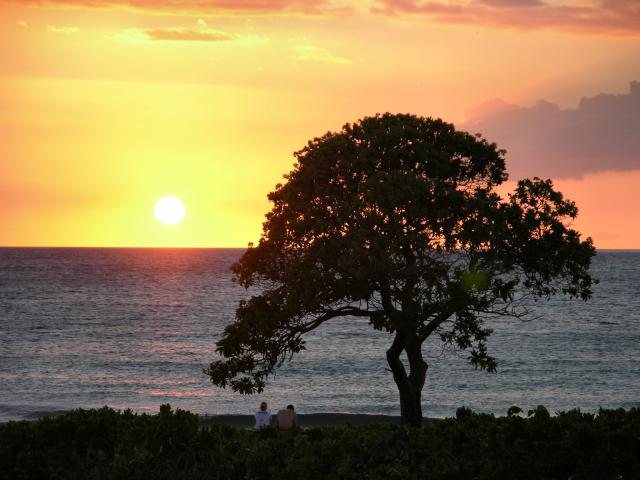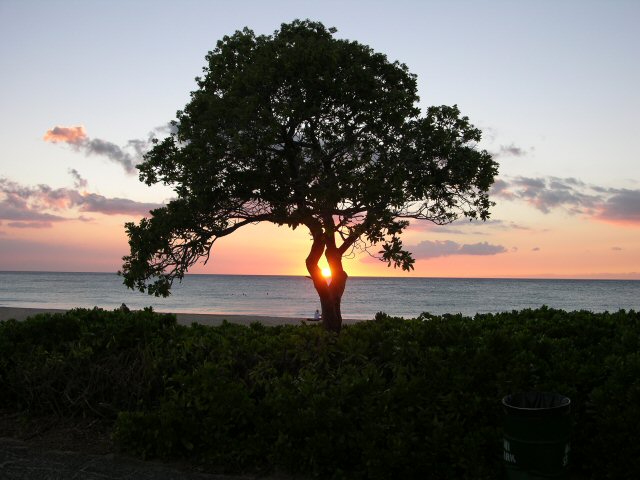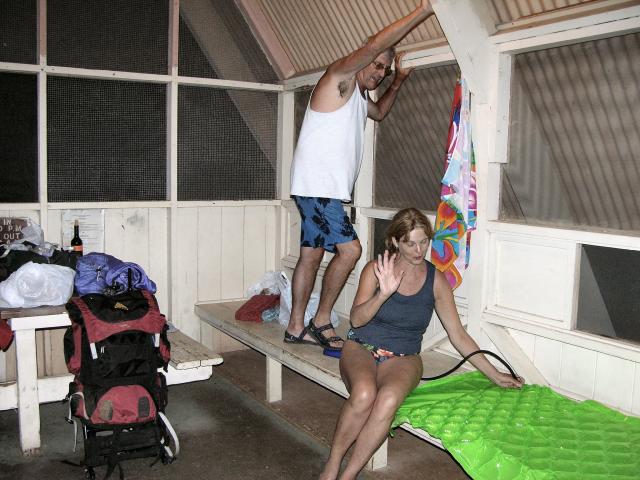 We're still not sure what Jim was up to, but it seemed that Carol didn't want any photographic evidence of it.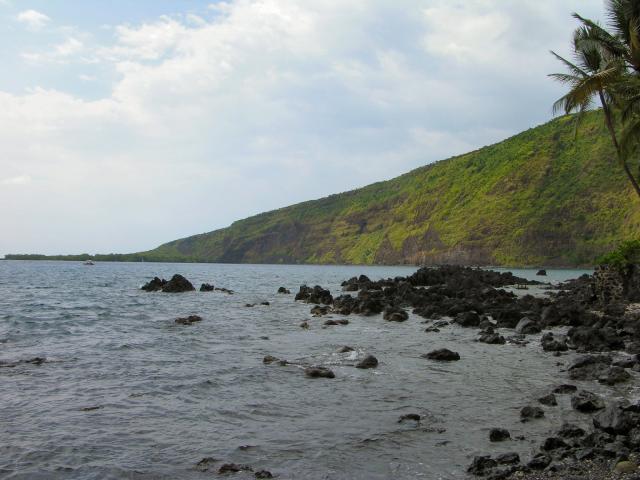 Thanks in no small part to the persistence of Jim and Carol, we all rented kayaks and paddled across Kealakekua Bay to the Captain Cook Monument, where we enjoyed the best snorkeling of the whole trip.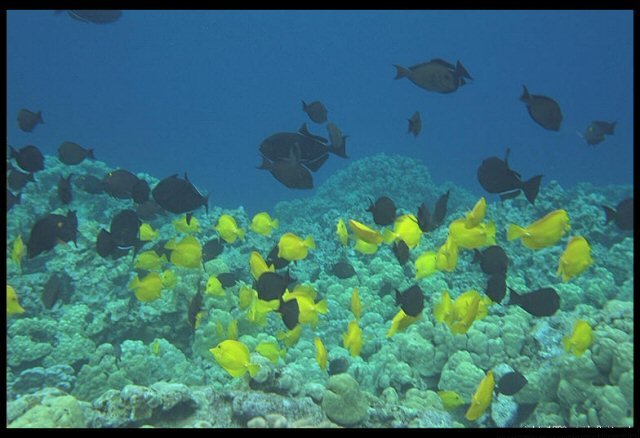 This image, 'borrowed' from the web, gives some idea of what we were seeing.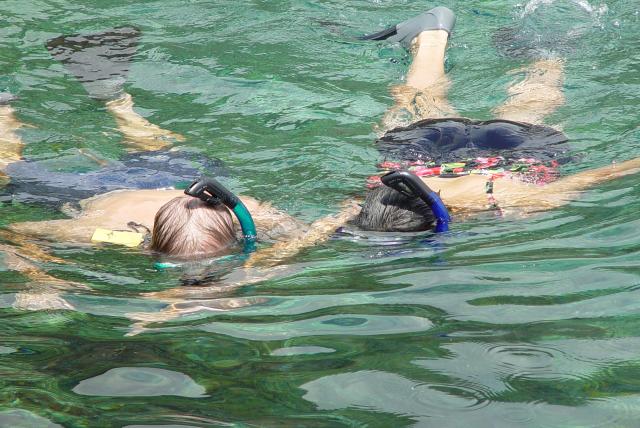 Unbeknownst to us, Jack had taken his camera in the kayak with him, and took this less-than-flattering exposure of us as we gleefully snorkeled, fins flying, completely oblivious to his nefarious photographic activity, and therefore completely unable to defend ourselves from this optical indiscretion.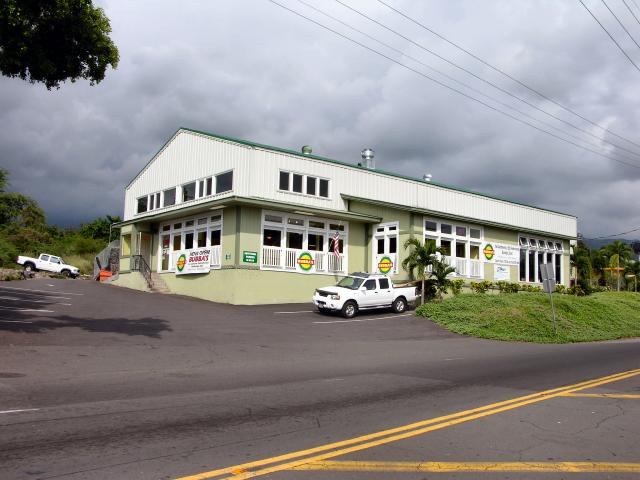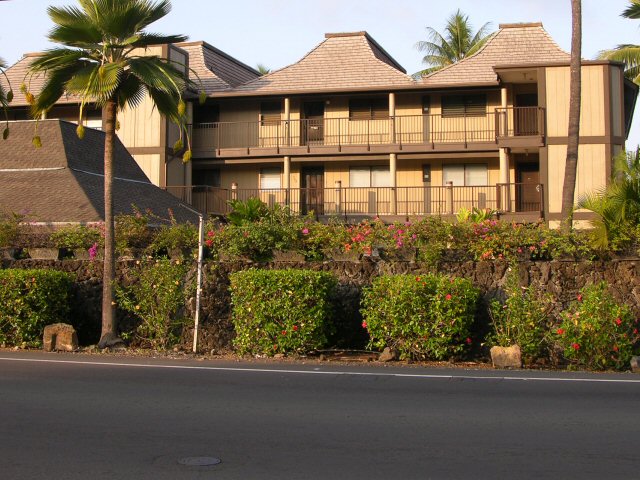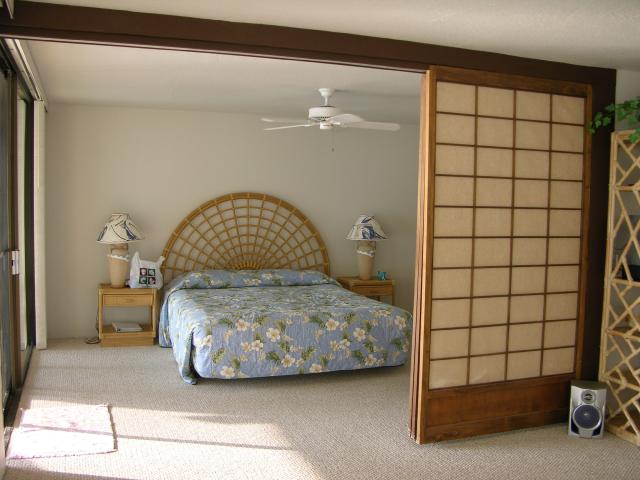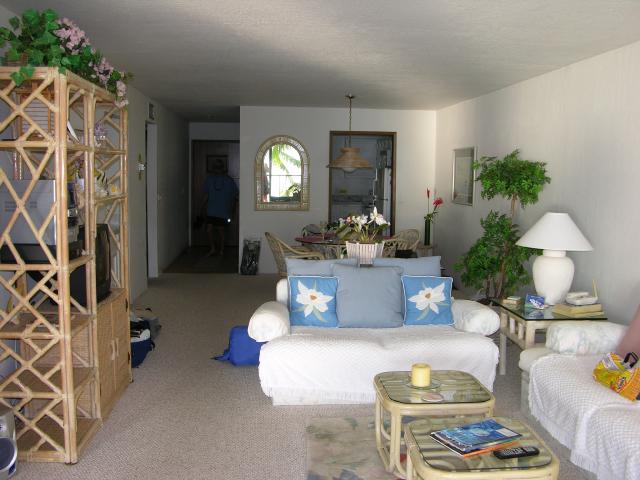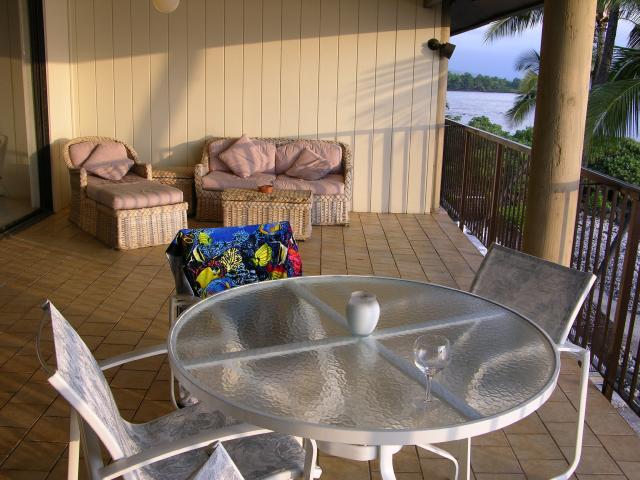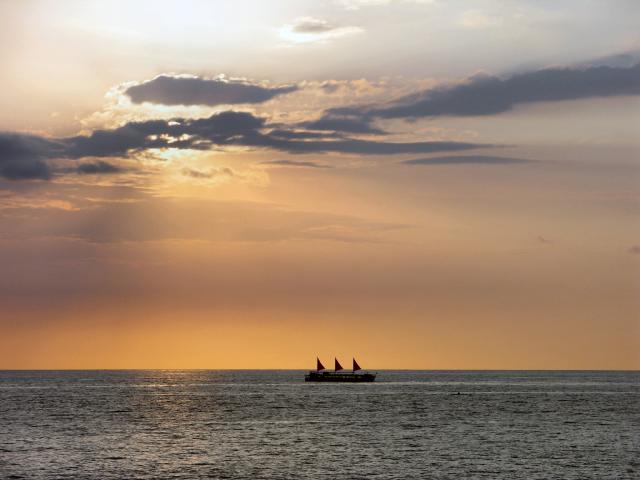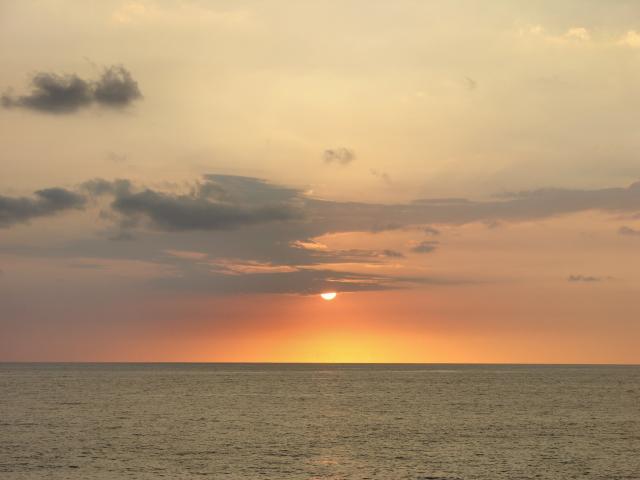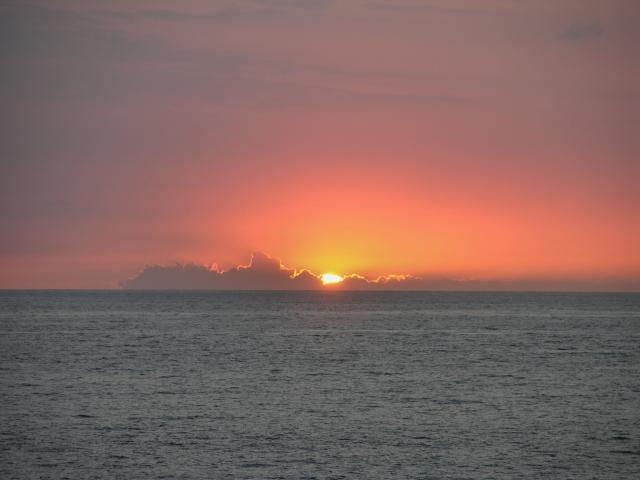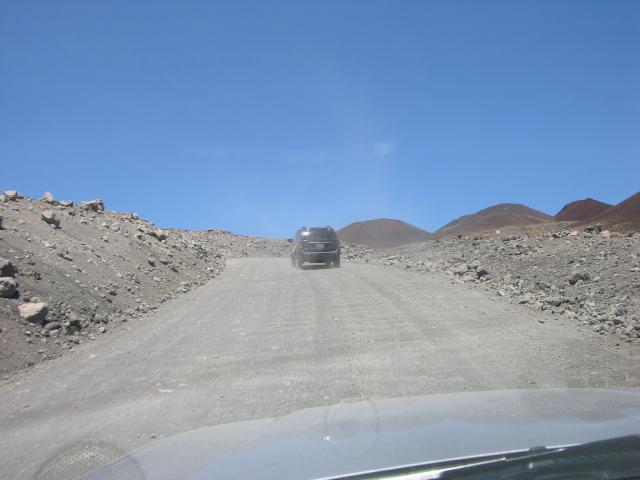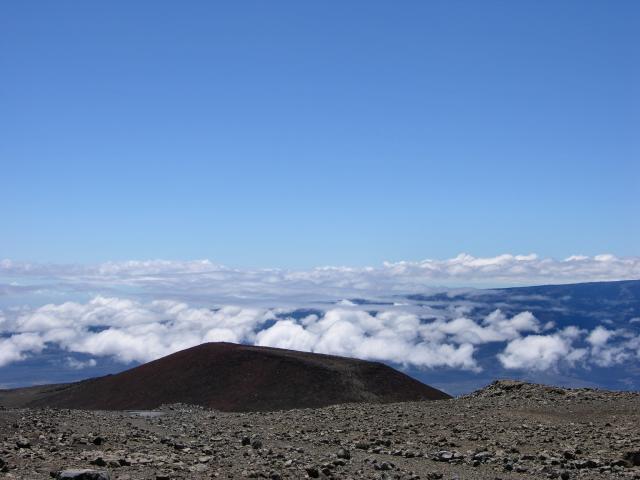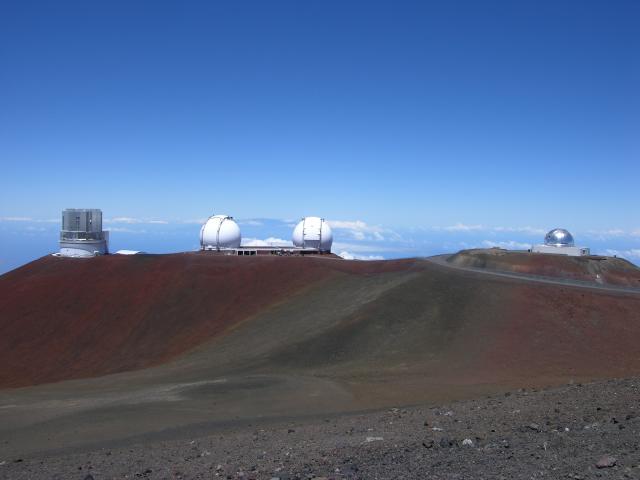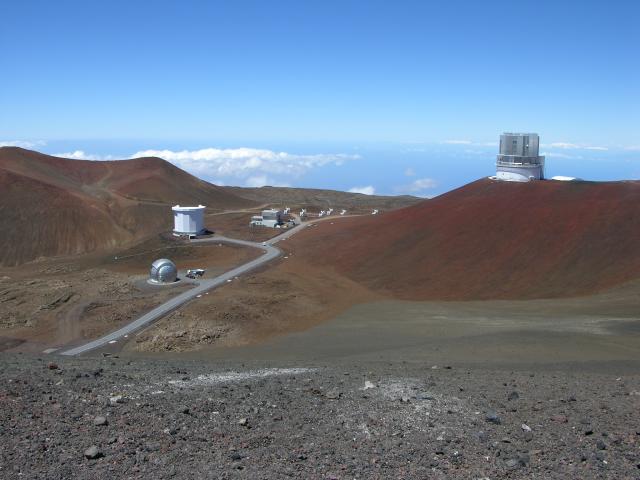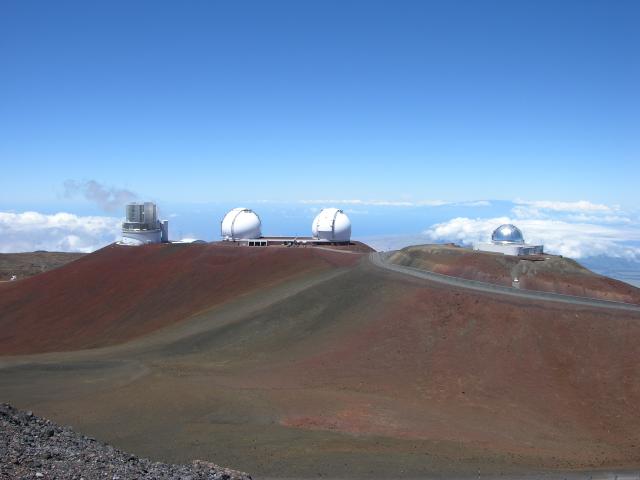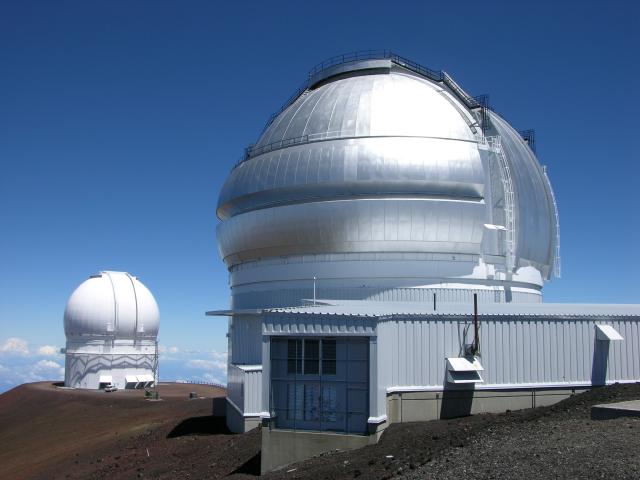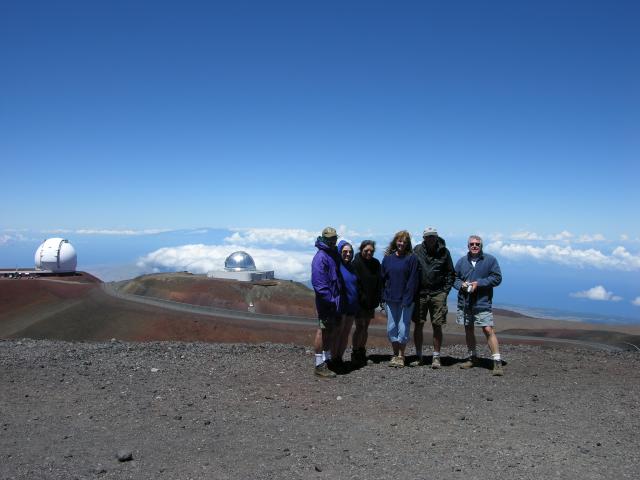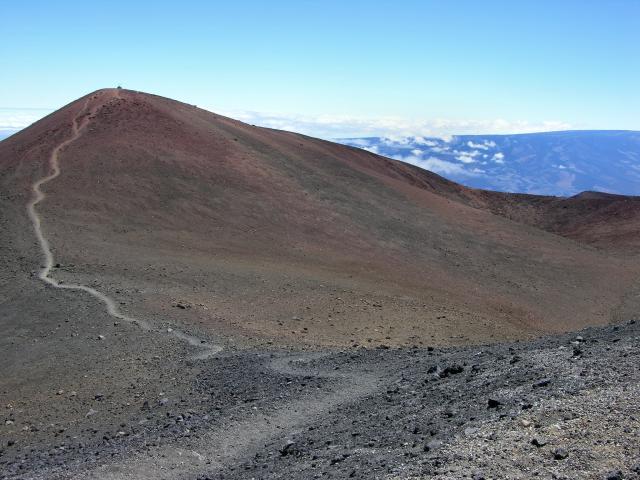 Frank and David just couldn't stand still for a minute, and took off on a hike up to the top of Mauna Kea. Fortunately it wasn't too far, but the lack of oxygen was definitely noticeable at 13,700 feet.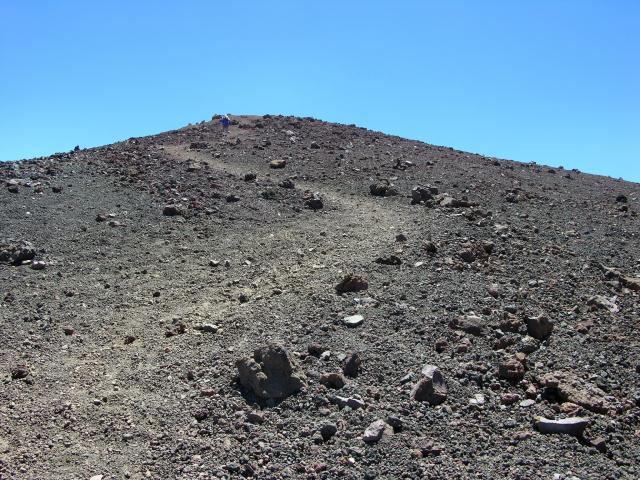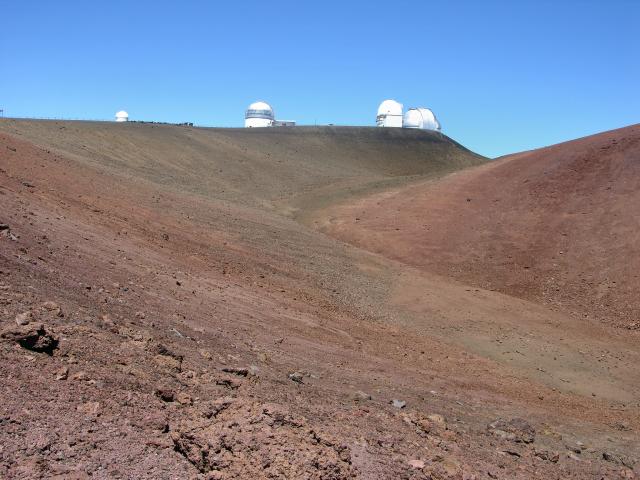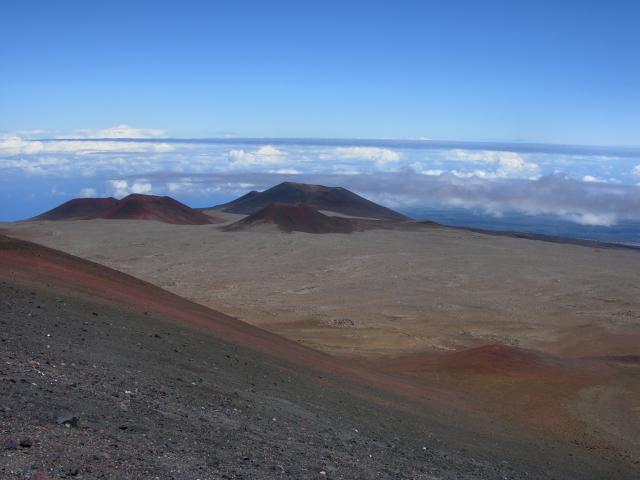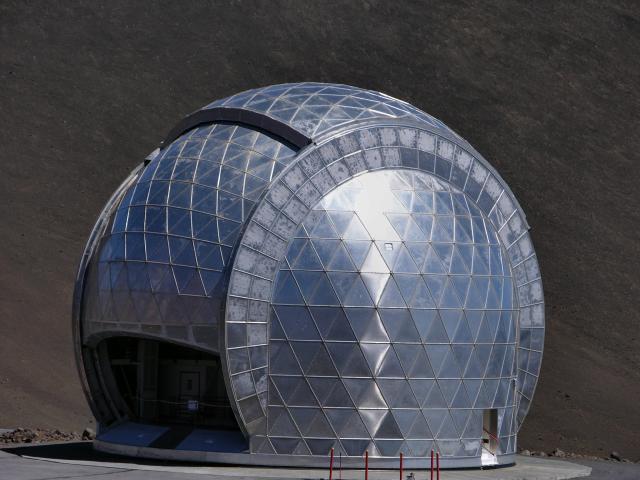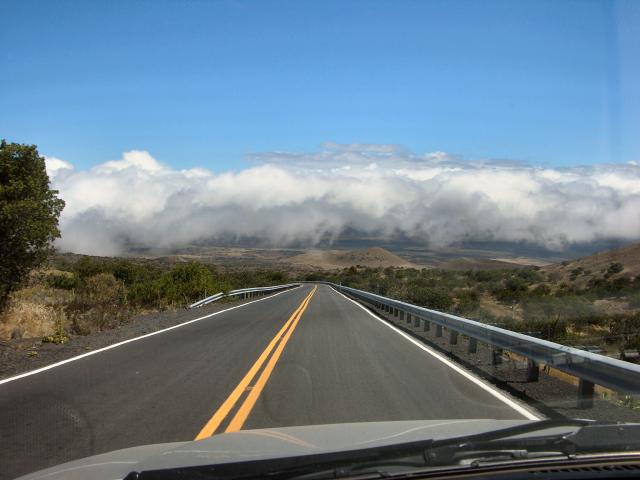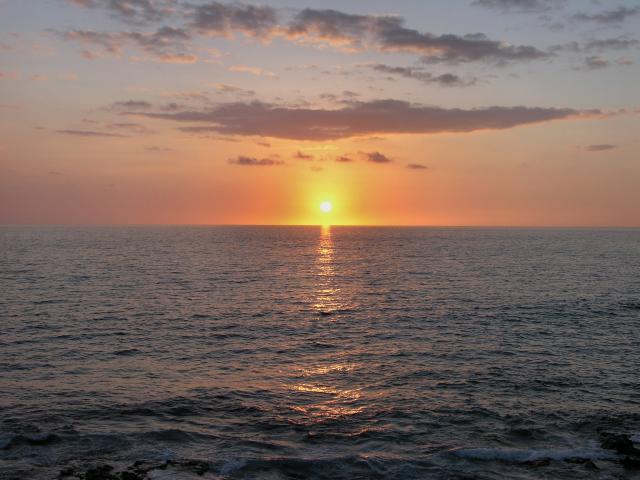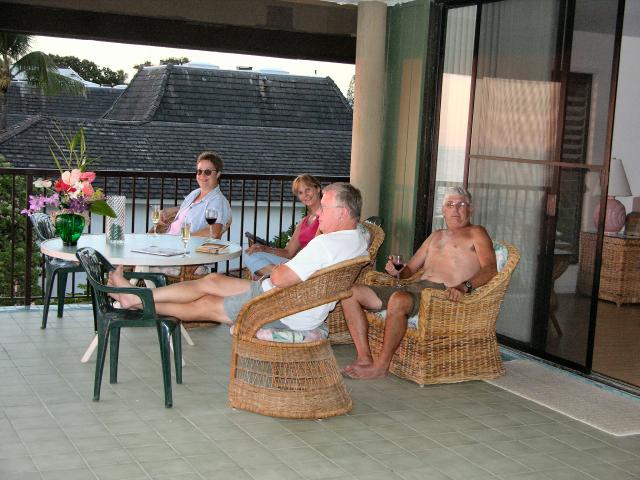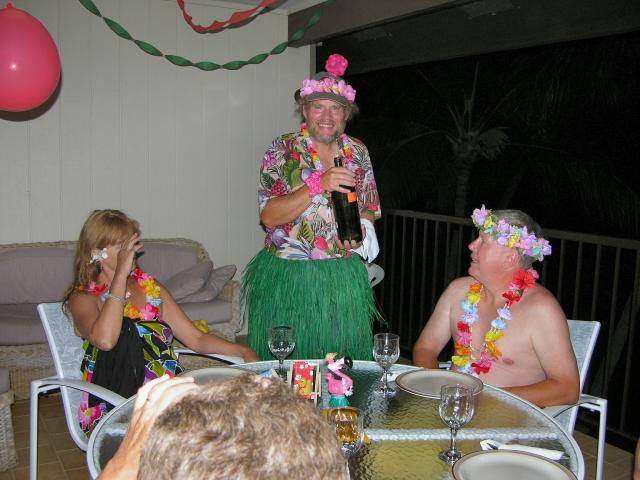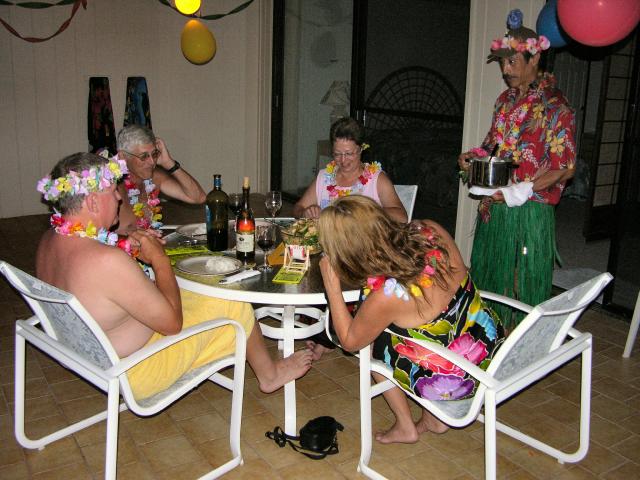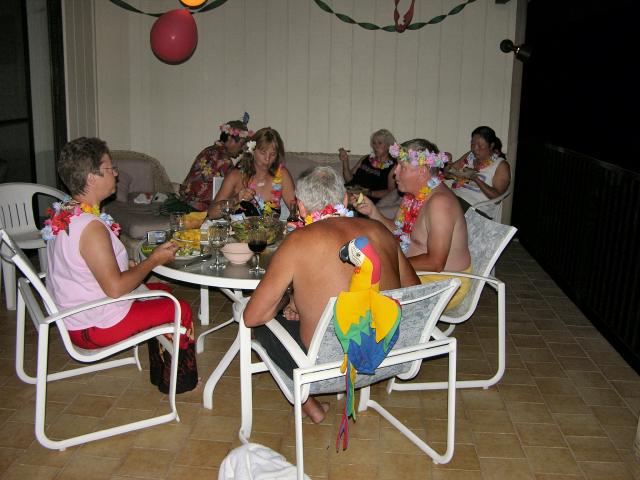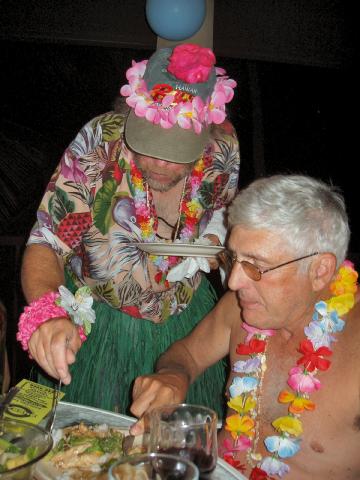 Here we see a most attentive waiter helping Jim with his dinner. It was really quite good...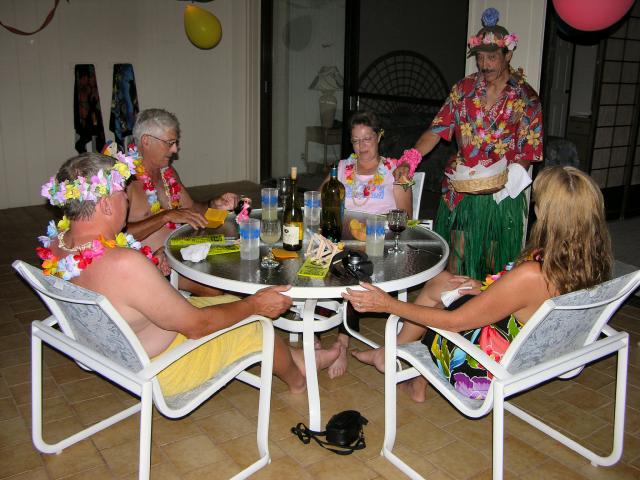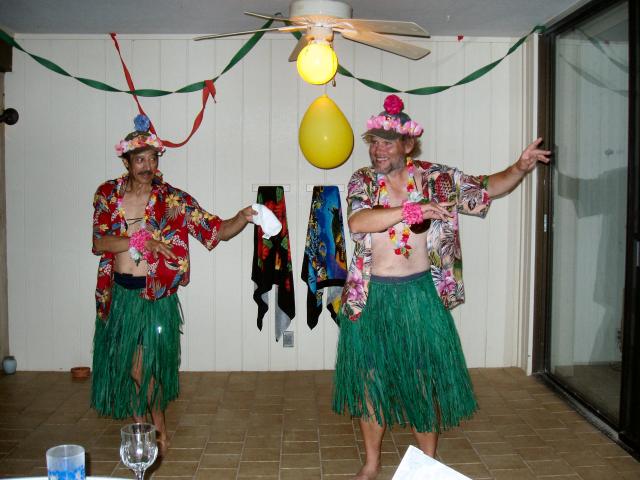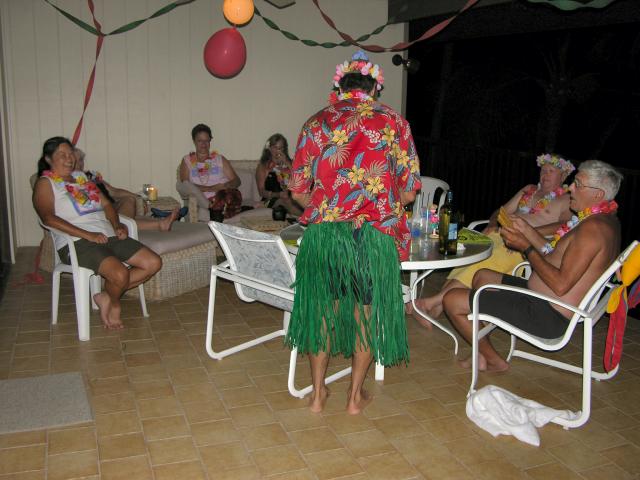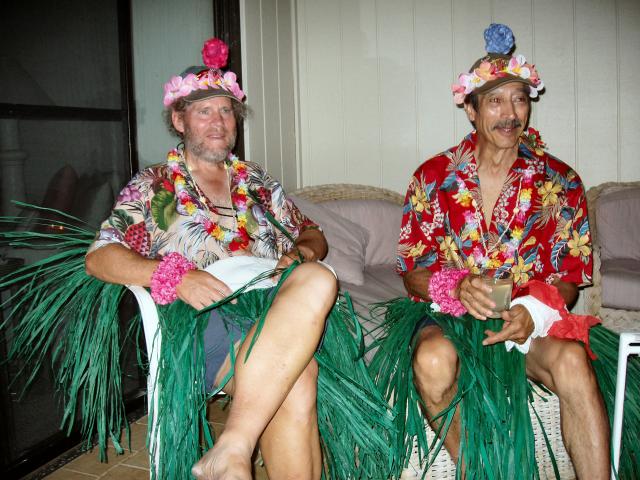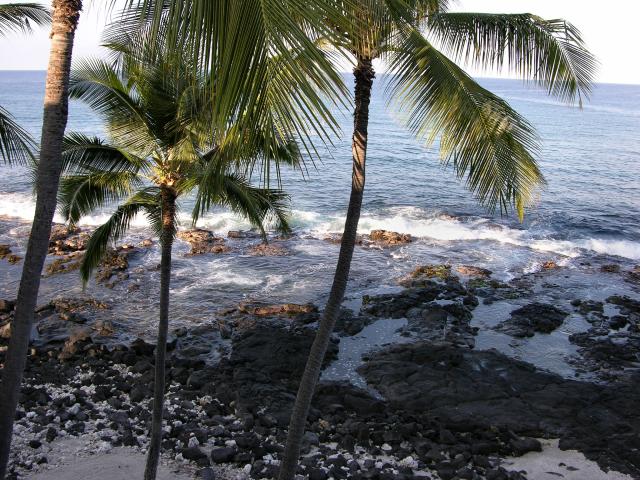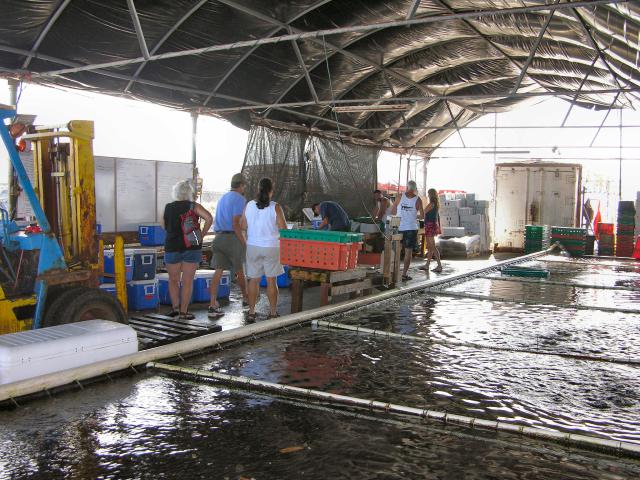 The fun never seemed to end. First thing the next morning we followed Jim and Carol to the lobster outlet up by the Kona Airport, where we picked up lobsters for the evening's epicurean adventure.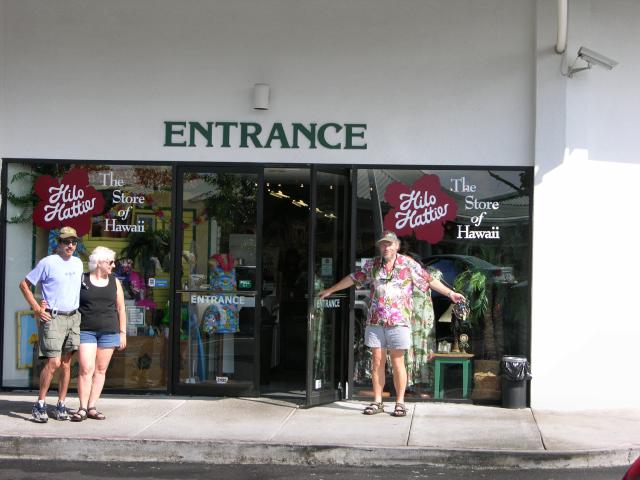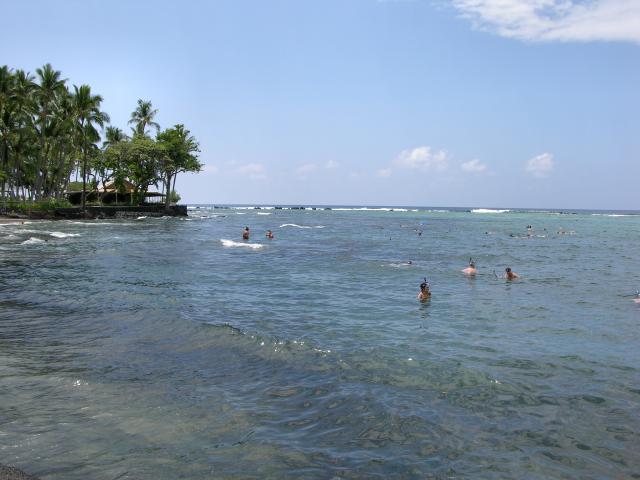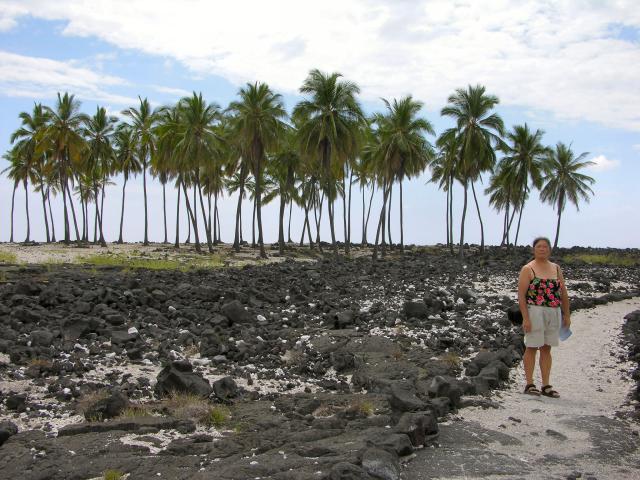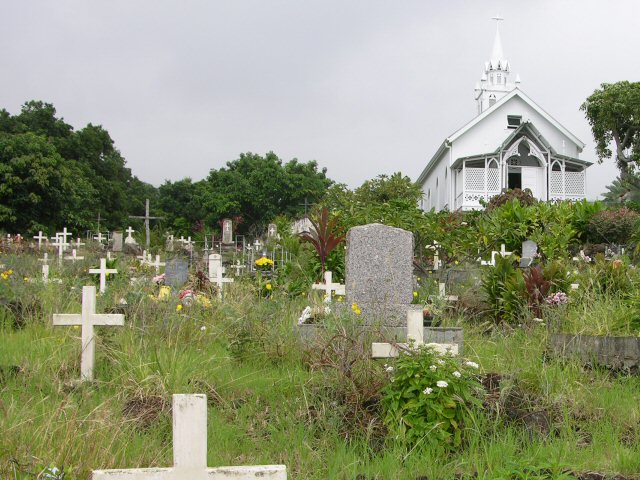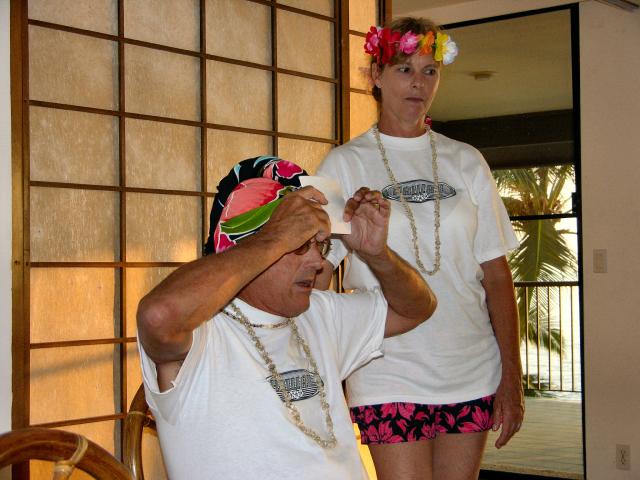 The Arizona Swami and his charming, if seemingly somewhat somber, assistant made their expected, but always mystical and near magical, appearance.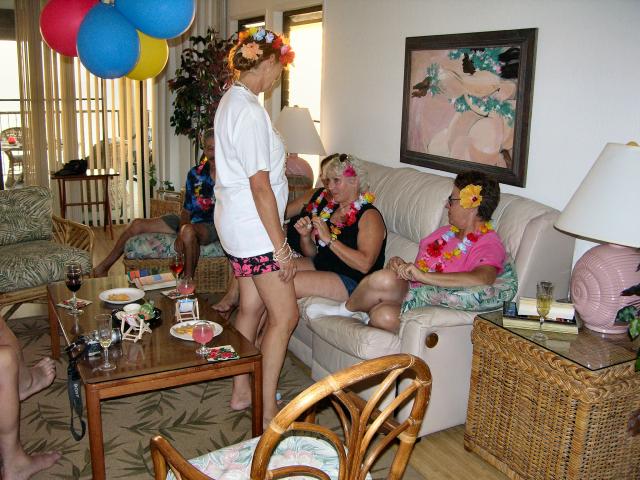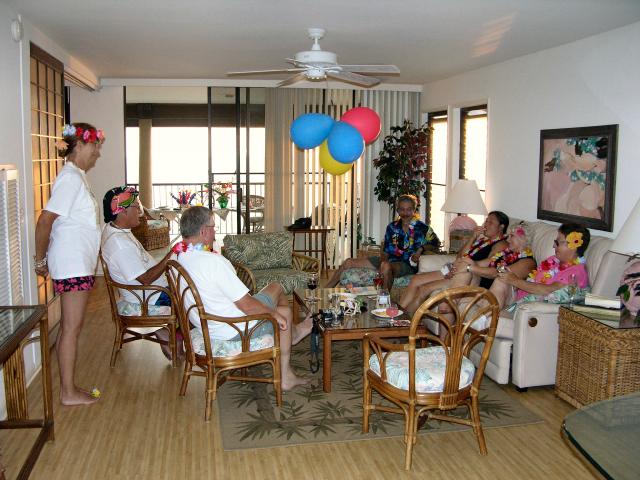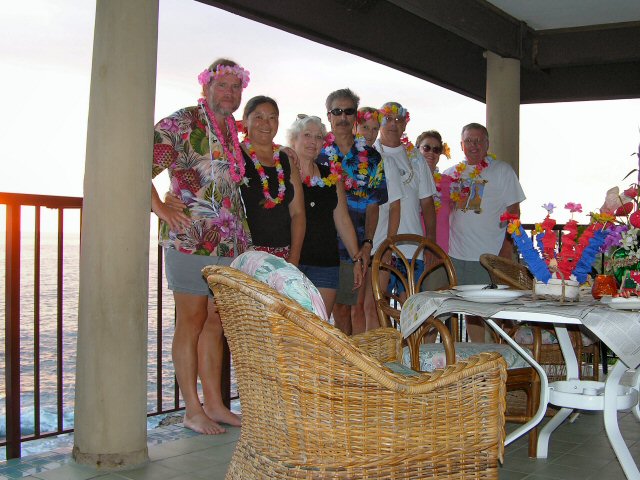 Knowing that our 2 weeks in paradise was rapidly drawing to a close, we assembled on the deck, with a schizoid sense of both relief and despair, for our final group portrait.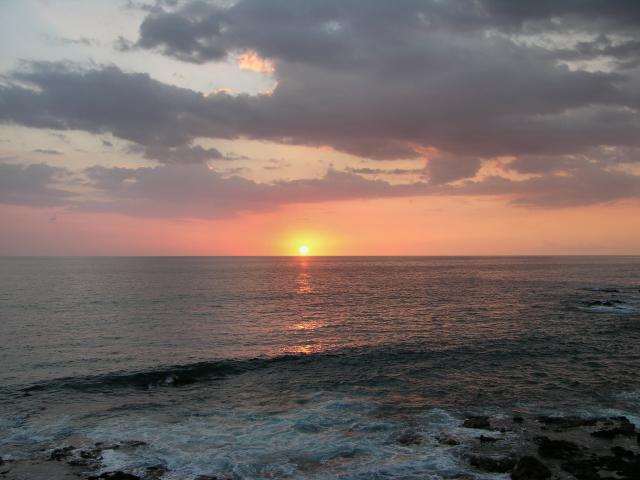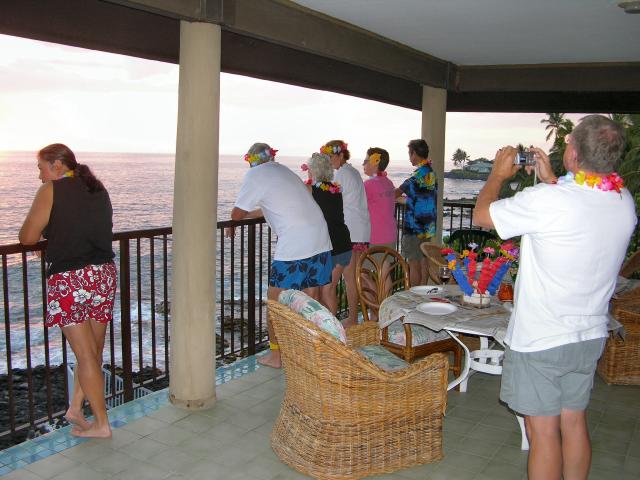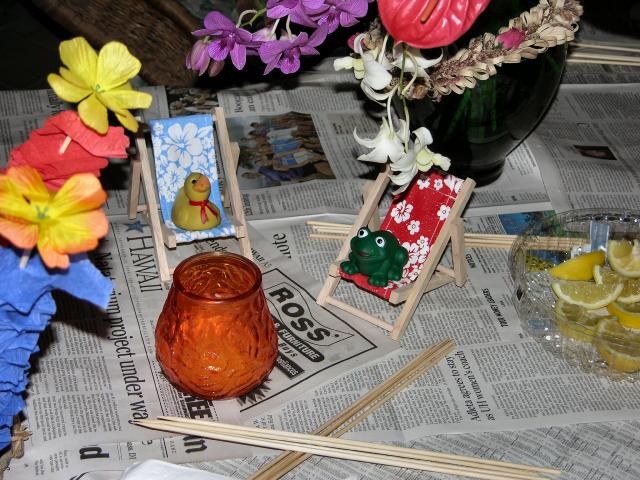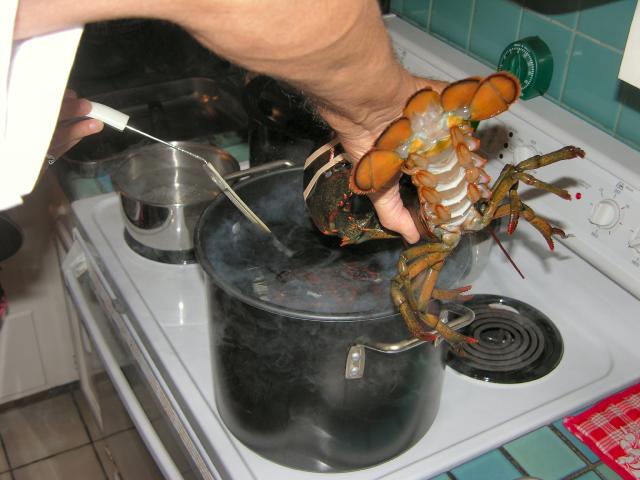 It was sad to watch, but Jim and Carol insisted on flying the lobsters around the kitchen like little airplanes and then crashing them into the pot of boiling water. We were all surprised at this sadistic side to what we had always seen as a nice, compassionate, caring couple. We can still hear the shrieks of sheer terror as the doomed lobsters careened into the boiling cauldron.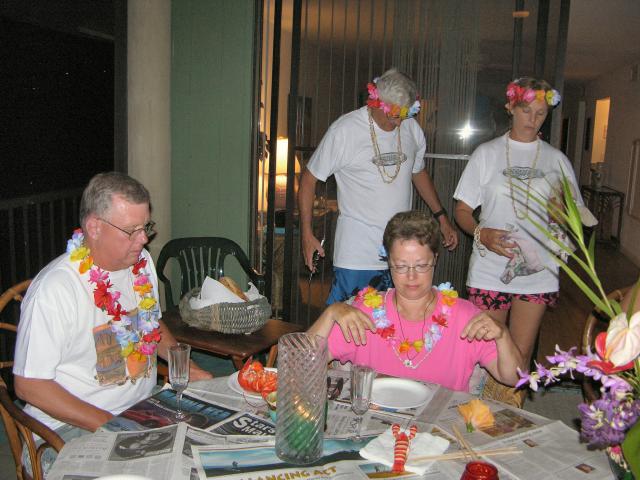 Then, perhaps in honor of the departed lobsters, Ruth did some sort of strange lobster claw deal right at the table, while Jack watched solemnly. Jim and Carol in the background seemed perhaps to display a bit of remorse, refusing to even look at the camera.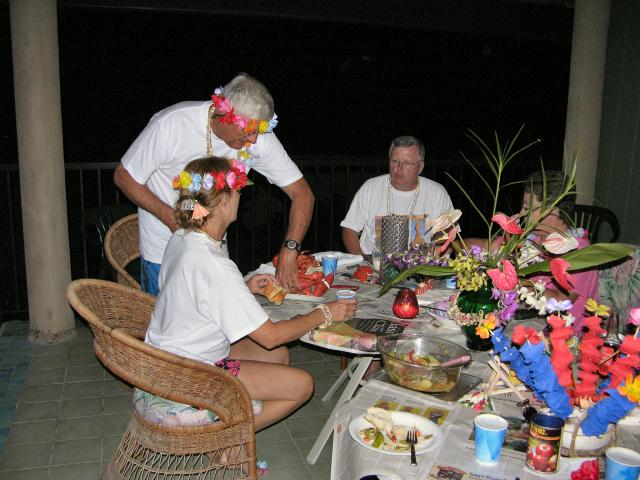 The feast continued into the night, everyone enjoying the food and festive atmosphere.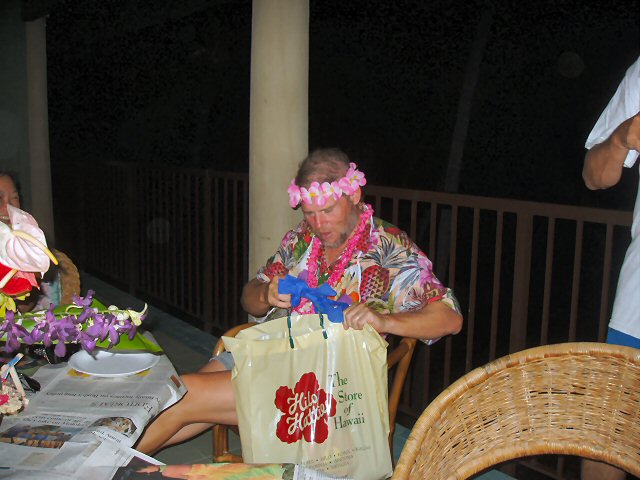 The dinner concluded with your humble writer winning the "door prize", such as it was: a plastic Hilo Hattie shopping bag consisting mostly of marginal crap that the others really didn't want to pack up and haul home with them. A hearty and undeserved "Thanks" to everyone involved.
The next morning saw us leave Kona in 2 stages. First Jack and Ruth, David and Sue headed off to Honolulu, followed shortly thereafter by Jim and Carol, Frank and Diane. Jack and Ruth connected directly from Honolulu to Seattle, David and Sue grabbed a rental car and looked forward to a few more days cruising around on Oahu, while Jim and Carol, Frank and Diane planned on a couple of days camping at the Bellows Field Beach Park.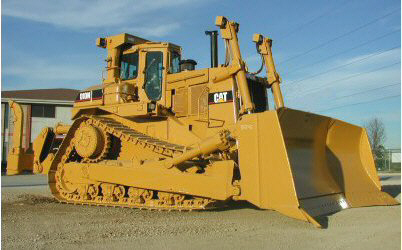 Hmmmm.... And what do we have here? A big old herking CAT D-11 - what could this mean, Carol? Something about being Bulldozery???
---