Hawaii - September 9-24, 2004


It is hoped that this web page will help those of us in the Frozen North get through the dark, dreary, Seattle winter of 2003, knowing that we have this much-anticipated trip coming up. It is also hoped that when the time comes, we will have enough money to get to Hawaii.
Our thanks to Carol, who unselfishly took it upon herself to organize this trip, to the point of actually making several personal trip-planning preparatory visits to Hawaii. Mahalo, Carol.
September 8th - Wednesday
Trip leaders Jim and Carol arrive on Kauai and scope things out.
September 9th - Thursday
Trip members arrive at the Lihue Airport at approximately 11:00 AM. Jim will soundly reprimand any late arrivals. Then immediately head to Hilo Hattie's just north of the airport to stock up on loud clothing, leis, etc, etc, then go shopping for propane, air mattresses, miscellaneous camping accoutrements, etc.
Check into the Hanalei Colony Resort [A] and enjoy an early dinner catered by Jim and Carol.
September 10th - Friday
Meet at the Kalalau Trailhead [B] at 7:00 AM, hike 2.25 miles to Hanakapi'l Beach arriving at 8:30 AM, then hike a further 4 miles to Hanakoa Falls Campsite arriving at 12:00 noon. Jim will soundly reprimand any late arrivals. Then spend the afternoon hiking to Hanakoa Falls (1 mile round trip).
September 11th - Saturday
Break camp at 7:00 AM. Arrive at the Kalalau Beach Campsite at 12:00 noon after hiking 4.5 miles on a narrow, switchback infested trail. Jim will soundly reprimand any late arrivals. Then spend the afternoon hiking to Kalalau Valley towards Big Pool (4 miles round trip). Swim to Honopupu Beach (per Carol the "most beautiful in the islands") if the seas are calm and the sharks are not too hungry.
September 12th - Sunday
Break camp at 7:00 AM. Hike 4.5 miles to Hanakoa Campsite, arriving at 12:00 noon. Jim will soundly reprimand any late arrivals.
September 13th - Monday
Break camp, lunch at Keke Beach, swimming, snorkeling, and a shower! Check back into Hanalei Colony Resort [A], then more swimming and tunnel snorkeling at Keke Beach. Late afternoon hike to Sea Lodge Beach for a beautiful sunset and pupus, and finally a barbeque at Hanalei Colony Resort.
September 14th - Tuesday
At 9:50 sharp arrive for guided tour of Limahuli Gardens in Kalaheo [D], then lunch at Hideaways Beach - Duane's Ono-Char Burger in Anahola [C], or maybe Bubba's in Kapaa [E], or picnic on Poipu Beach, followed by some snorkeling, then some grocery shopping in Kohola or Aaumea. Shop Lawai - corner of Koloa Road and 50 Kaumualii. Set up camp by Koke'e Visitor Center, Waimea Canyon. Driving tour of the canyon and visit the museum. DIY dinner at campsite.
September 15th - Wednesday
Hiking day - lots of hikes to choose from. Check into the historic Camp Sloggett Lodge. DIY dinner at the Lodge.
September 16th - Thursday
Grove Farm Homestead tour at 9:50 sharp, then to Spouting Horn and Salt Pond Beach Park - lunch, swim, snorkel. Lamperts in Koloa and grocery shopping for DIY dinner at the Lodge.
September 17th - Friday
Fly from Lihue, Kauai, to Hilo, Hawaii mid-AM. Grocery shopping in Hilo off Hiway 11, optional but highly recommended visit to Uncle Billy's in Kona (sad to report that his web site no longer features the tacky Hawaiian music), then drive to Kilauea Volcano area, arriving at 3:00 PM and set up camp at Namakani Paio Campground. Early dinner at 4:00 PM at Military Camp Cafeteria, then drive down the Chain of Craters Road to the lava flow, the Puu Loa Petroglyphs and other hiking options, and another beautiful sunset.
September 18th - Saturday
Free guided walk and orientation at the Park Visitor Center at 9:30 AM. Check http://hvo.wr.usgs.gov/kilauea/update/. At 10:15 walk through the Thurston Lava Tube, then swing by the Puu Puai Overlook Halemauma'u Crater, Jager Museum, Kilauea Overlook, Volcano House, and Volcano Art Center, followed by a picnic lunch. Drive outside park 30 minutes to Kipuka Pu'oula for a hike through old-growth forest surrounded by lava, then visit vent at Pu'u'o'o - Hiway 130 to 11.
September 19th - Sunday
Drive to Paauhau Plantation House via Hilo and Honoka'a, then grocery shopping Hilo. Optional but highly recommended visit to Uncle Billy's in Hilo. Lunch at Laupahoehoe Point and Memorial, Waipio Valley Overlook - hike 1 mile down and 1 mile back up. Check into B&B for DIY dinner.
September 20th - Monday
Drive Old Manalahoe Hiway to Wiamea, tour Parker Ranch, then mid-day set up camp at Hapuna Beach State Park, then swim, snorkel, and/or hike the beach trail. Dinner at camp or nearby Cafe Pesto, Kawaihae.
September 21st - Tuesday
Break camp at 8:00 AM or so. Kayak to Captain Cook Monument, Kealakekua, swim, snorkel, and picnic lunch. Check into Kona Nalu and finally bathe. Collect dinner - from fish market? Dinner on the lanai overlooking the surf.
September 22nd - Wednesday
Take the Saddle Road to Mauna Kea and hike to permafrost-fed lake, then on to Salt and Pepper Beach and Kahalu'u Beach Park with native crafts and snorkeling with the honu's.
September 23rd - Thursday
Tour City of Refuge, Pu'uhonuao Honaunau for snorkeling and picnicing. Lobster dinner on the lanai.
September 24th - Friday
A final "Aloha" to all, as we depart Kona. Mahalo...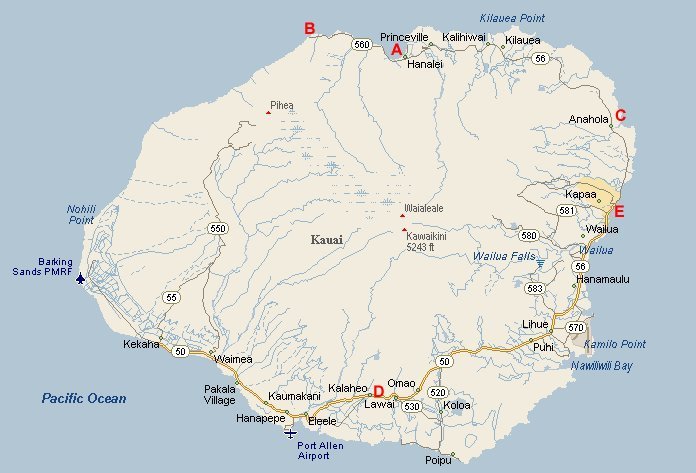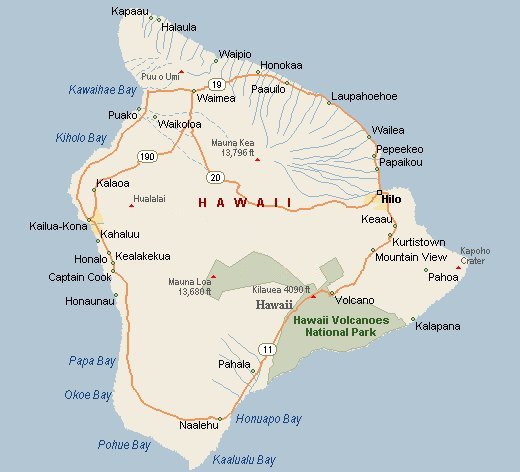 ---